When I moved to Topeka ten years ago, the stretch of historic buildings lining North Kansas Avenue  between NE Norris and NE Gordon were a bit run-down to say the least. Neglected and mostly abandoned, there were few bright spots along this stretch that led towards one of Topeka's top tourist spots - The Great Overland Station. As newbies to town, we thought that seemed too bad, but like many people, we kind of saw it as a dead-end. [[endteaser]]
A trip to the same spot last Friday night had me doing a double-take.
Now, I will admit, my friends have said for a while that I really should join them on First Fridays in North Topeka Arts District. (For the uninitiated, that's the first Friday night of the month, when ARTSConnect Topeka sponsors dozens of special art events around town.) My friends get babysitters for the kids and meet up down there. The guys take a load off at someplace like Serendipity, grab a drink and enjoy great music and great food, while the girls browse through the stores and check out the galleries. But my husband and I just couldn't ever remember to put in on the schedule... guess THAT was a mistake.
Last weekend, the First Friday event at NOTO was full of music, art and a little bit of culture for just about everyone's tastes. Bluegrass, Rock, Jazz and Merengue wafted through the air from live bands and musicians playing on the street. Artists inside and outside stores demonstrated their crafts. I saw spray paint artists, a paper "quilter" and a decorative arts painter turning antiques into new creations. I chatted with an author who was signing copies of her new book, browsed through an antique store and wandered into a gallery featuring Mexican-themed art.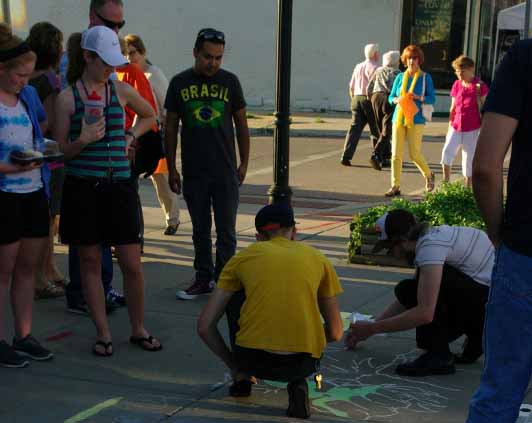 There was so much to see and do. It was like NOTO has somehow captured the best of Topeka, and it is even better than what many of us might have hoped for. It is unique, local and all put together in a contagious and inviting atmosphere you really need to see for yourself. 
Plenty of fun stuff for the kids, like opportunities to participate in making art, meant this is actually a great place to take the family. BUT if you want to get away for a date-night, the beer garden behind Rusty Haggles was hopping, and I'm pretty sure my son's wouldn't love some of those stores nearly as much as I did.
The NOTO Arts District seems to have come alive overnight, but the truth is, it is the result of MUCH collaboration and dreaming by people who wanted to give Topeka a place for Art to survive and thrive. They started small, but it might not be that way for long. Fifteen artists have studios in the district, dozens display their work there and numbers are growing. There are about 20 different permanent shops and restaurants along with many temporary vendors on- hand for special events. The district seems to be growing like wildfire. Just this month, they celebrated the opening of several new shops and places where artists show and create their work or offer classes.
The NOTO Community Arts Center, which is housed in the old North Topeka Post Office on the North end of the district, is already offering art classes and will eventually be a welcome center of sorts for the area. It is, however, still undergoing renovations. So, it is not open all the time.
You really need to plan a time to visit NOTO, BUT you also need to make sure you visit at the right time. The district is still "emerging," which means a trip there during a First Friday Art Walk will pretty much knock your socks off. If you go during the middle of the day on a Tuesday, you may still be left wondering what all the fuss is about.
My advice is to check out their website at www.notoartsdistrict.com and plan a time that works for you.
It is really amazing what can happen when people start getting excited about making something positive happen in their town.  
So, don't be like me and delay. Put it on the calendar and make it happen.

Karen Ridder is a freelance writer living in Topeka. A former News Producer for KSNW-TV in Wichita, her work can also been seen in print publications including: Topeka Magazine, TK Magazine and the Topeka Capital-Journal. She has written for several national blogs and was recently recognized as one of the 2011 winners in the Annual Kansas Factual Story Contest. Karen has lived in Kansas for 15 years and married a native Wichitan. Together they are raising three little sunflower boys and a dog named George.