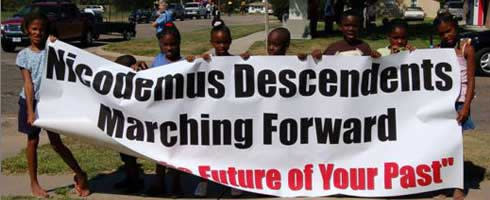 Something special has been happening in
Nicodemus
every year since 1878. Back then, the community founded in 1877 by 350 freed slaves from Kentucky and Tennessee held an
Emancipation Celebration
every year to commemorate the abolishment of slavery. Today, the event celebrates that and so very much more. Nicodemus is, afterall, the only town still in existence west of the Mississippi River that was established by African Americans during the Reconstruction Period following the Civil War. [[endteaser]]
This cultural heritage will be honored July 29-31 at the 133rd Homecoming Emancipation Celebration, during which descendants of those early settlers return to their Nicodemus roots for fellowship and remembrance and the rest of us pay tribute to this unique community on the western high plains of Kansas. The Nicodemus National Historic Site includes a Township Hall, school, two churches, and an early-day hotel; the National Park Service operates a Visitors Center year-round in the Township Hall.
When I spoke with Homecoming Celebration coordinator Sharyn Dowdell, she had just received the exciting news that the story of Nicodemus will be expressed in another art form – ballet – at this year's event. Members of the Ballethnic Dance Company of East Point, Ga. will perform pieces of a new full-length narrative ballet adapted from Pearl Cleage's "Flyin' West," a play featuring the tale of three women who homesteaded near Nicodemus.
Sharyn said the Celebration includes activities for all ages, with the most popular events being the Gospel Extravaganza, the parade, and the special historical programs that this year feature Judy Forte, superintendent of the Martin Lutheran King Jr. National Historic Site in Atlanta, Ga., Barry Tompkins, a Buffalo Soldier re-enactor, and Joseph Marshall, a Native American author.Have you been to Nicodemus?
I cooked up the idea of making a career combining my love for writing, eating, and traveling after my sons were born. I grilled my friends living in other parts of the state about their favorite restaurants, and some of those establishments eventually became the topic of my Historic Restaurant series, and later the Tastes column, published in KANSAS! magazine. I simply enjoy the adventure of discovering great food found at unique restaurants, small-town grocery stores, and farm-based processors throughout Kansas, and then sharing what I've learned with you.