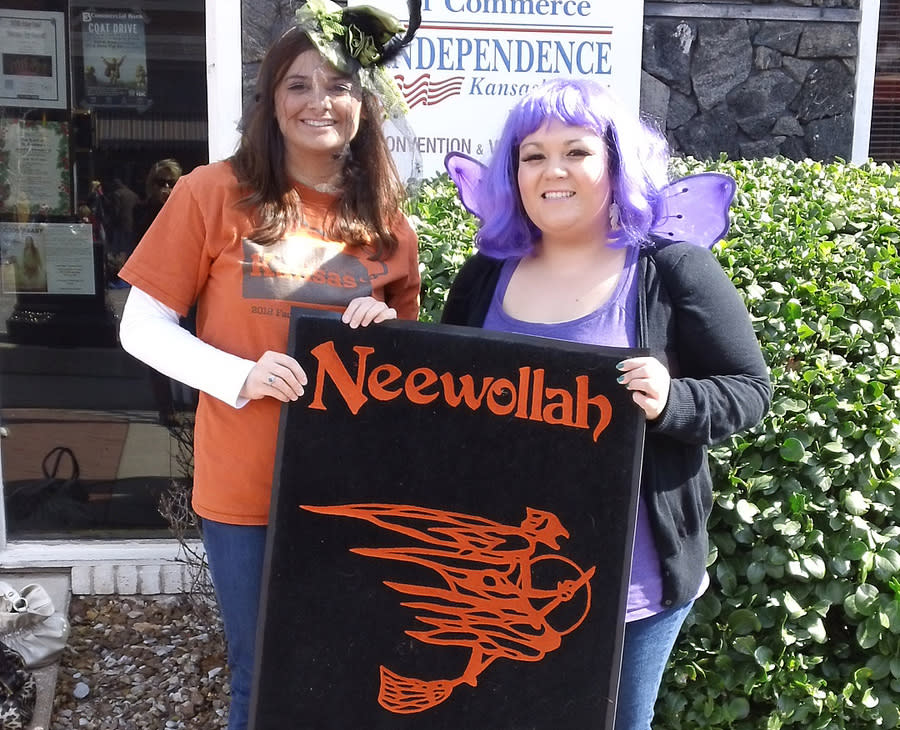 Let me just start by saying I'm a big fan of Halloween. The mixture of fall colors, cooler temperatures, creative costumes and oh-so-sweet candy makes for one of the most fun holidays out there. So when I got my list of Faces and Places stops a few months ago, I was very excited that I was chosen to go to Neewollah, once I found out what it was.I had never heard of Neewollah before. It wasn't until I told my parents about my trips, that my mom pointed out it is Halloween spelled backwards. I really should have figured that out earlier. My parents told me about the great Halloween celebrations that take place in Independence, Kansas, and from that point on I was counting down the days until the trip.[[endteaser]]
I woke up bright and early Saturday to hit the road with my friend Jessica. We were scheduled to be in the parade, so I put on my green witch's hat, she put on her purple wig and off we went. Once we got in town and lined up for the parade, I couldn't believe what I was seeing. Now, I have gone to quite a few parades in my day, but the amount of people that come out to watch this one really took me by surprise. We were float number 121, if that gives you an idea of how many people participate in this parade. As we strolled down Pennsylvania Avenue in our Faces and Places van throwing out candy and t-shirts, every block we went down was filled with hundreds of people. We found out the parade was 12 blocks long and lasted about two hours. Can you imagine how much candy all those kids end up with??
Once we finished the parade, the festival began. The streets were lined with food vendors and a band took the stage, filling the town with music. It was noon at this point and Jessica and I were ready for some food. Our gracious hosts Debbie and Kim, who were some of the most energetic and friendly women I have met, suggested we try jaffles. So we found the jaffle stand and waited in line ready for that anticipated first bite. I peeked in to watch as they made the sandwich. Basically, they took bread, put pepperoni, sauce, cheese and sausage in the middle then put it on a griddle. It comes out tasting like a pizza in a grilled cheese. Needless to say, it was delicious. Jessica and I continued our journey of eating vendor food and treated ourselves to curly fries and funnel cake.
The great thing about the festival is it's not all about Halloween. While it takes place around the holiday, there are so many other types of entertainment. Debbie also told me they have a play and some competitions similar to a homecoming king and queen in the weeks leading up to the parade.My experience in Independence was so much fun! I had never been to the city, but was welcomed with open arms. It's clear this is a celebration that people come back for and the family-friendly atmosphere just made it all the more inviting. Jessica even told me she plans on coming back next year!If you haven't ever gone to this festival, I insist you go! You just can't help but smile.

Lindsey is graduate student at Kansas State University studying journalism and mass communications. She has lived in Manhattan for eight years but is originally from Salina. She enjoys watching K-State sports, going to the lake, attempting to learn how to cook and taking her dog on fun adventures. Some of her favorite Kansas places are Pillsbury Crossing in Manhattan, Scheme Pizza in Salina and Holyfield Winery in Basehor. She joined the 2012 Faces & Places Tour because she loves the idea of road tripping all summer to unique Kansas towns and meeting the friendly people.