I expected to see cookbooks and colorful utensils, but what made my heart sing was a band playing "Wild Thing" when I stepped inside Apron Strings Kitchen Store in Hutchinson. What could be better than shopping to the sound of live music? Borrowing from the song's lyrics: Third Thursday, I think I love you.[[endteaser]]
Currently in its fifth year, Third Thursday brings musicians and visual artists from throughout Kansas - and even other parts of the country - to downtown Hutchinson on, you guessed it, the third Thursday of each month. Sometimes the evenings focus on a special theme; always the event draws a number of amazing artists sure to keep you entertained on a cold winter night or a hot summer evening.
At Gallery 7, I munched on refreshments while watching two young sisters dance to the music of Bob Calladay on his ukulele banjo. Amazingly, when Bob didn't quite know a requested song he merely Googled it on his phone and gave it his best shot to the delight of his audience! 
It was here on this cold Spring evening that I met two amazing Kansas artists. I was fascinated by the peaceful images created by Tracey Garrett, who told me she uses stoned ground ink and a bamboo brush to produce the Chinese Brush paintings I found so calming. Her paintings were quite a contrast to the nearby colorful paper mosaics and spray paint art created by Randy Oberle, whose work also caught my eye. In warmer weather, I could just imagine leisurely strolling outdoors through downtown Hutchinson browsing table after table filled with the works of artists such as these.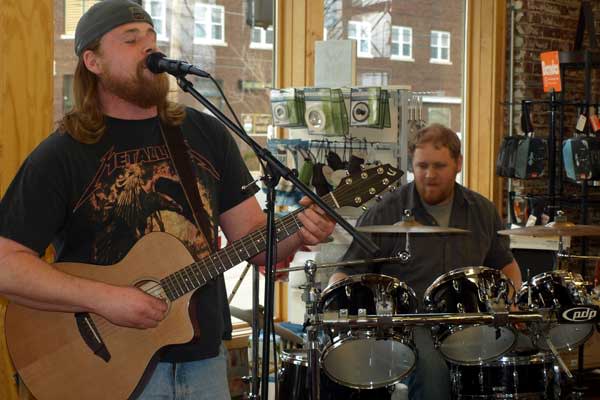 Leaving the gallery, I walked to a park where Hutchinson's own punk rock band called Black Wall Monument brought some high energy to the dismally cold night. I then moved inside to Smith's Market where Wichita-based Scott Allan Knost played guitar and sang his catchy original tunes in front of a backdrop of colorful packages of seasoning mixes and other grocery items.
Around the corner and just down the street was a pint-sized sandwich shop called Inspired! where I ordered a PiZaaco, a creatively combined pizza taco. Dani Collins fills her shop with arts and crafts, and while I was waiting I spotted a bracelet made from the rims of several bullets. Yes, bullets. Sara White makes unusual pieces of jewelry such as the bullet bracelet and sells them at Inspired! only on Third Thursday.
The lyrics to "Wild Thing" once again popped into my head as I thought about one-of-a-kind pieces of art available for purchase, live music, and food. Third Thursday, I think I love you.
Tell me what you love about Hutchinson's Third Thursday by commenting below.
Cecilia Harris is a professional freelance writer from Abilene who enjoys discovering fascinating attractions, events and people that reflect the arts, culture and heritage found in Kansas. She has been a longtime regular contributor to KANSAS! magazine and also has written for such publications as Midwest Living, Sunflower Living, Kansas Heritage and The Greyhound Review to inspire others to explore and appreciate her home state. She also has authored two books, "Historic Homes of Abilene" and "Abilene's Carousel."