It was as if I returned to my roots when I visited Munson Angus Farms west of Junction City to experience their pumpkin patch. Reared on a Kansas farm where we also raised Angus cattle, I helped with my family's large garden. But it was nothing like the Munson's huge pumpkin acreage, and I certainly never rode in a wagon pulled by a team of beautiful Percheron horses to pick the fruits of our labor. Nor did we ever create a maze in our corn field! [[endteaser]]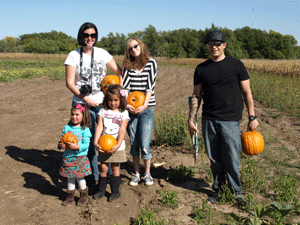 I'm grateful to people like the Munsons, who allow families – and even us big kids who now are empty nesters – to enjoy a fun-filled adventure while experiencing the culture of farm life. At the horse barn, hubby and I were picked up by a wooden wagon pulled by Sam and Duke II, a Percheron horse team we enjoyed petting. After a short, bumpy ride, we jumped off the wagon to get lost in the "a-maize-ing" corn maze, pardon my corny pun.
Weeding out a few dead-ends, we finally exited the corn maze and found ourselves in the pumpkin patch full of the large round, bright orange fruit ripe on the vines. After a bit of searching, hubby and I both found our favorites to take home and hauled our pumpkins over to the wagon for our return trip to the horse barn. We grabbed lemonade and wandered over to the windmill, painted yellow and green to represent a Kansas sunflower, and the bonfire where we roasted marshmallows. Sandwiching my marshmallow with a piece of chocolate between two graham crackers, I savored my s'more and reflected on farm life as the sun began to set.
Unlike when I was growing up, many schoolchildren today have never set foot on a farm or even know maize is another word for yellow corn. Realizing this, Deanna Munson says the family started the pumpkin patch five years ago as a way to educate future generations about agriculture by exposing them to the farm. I believe the Munsons also are planting the seed of appreciation for this wonderful way of life.
Do you have a favorite pumpkin patch?

Cecilia Harris is a professional freelance writer from Abilene who enjoys discovering fascinating attractions, events and people that reflect the arts, culture and heritage found in Kansas. She has been a longtime regular contributor to KANSAS! magazine and also has written for such publications as Midwest Living, Sunflower Living, Kansas Heritage and The Greyhound Review to inspire others to explore and appreciate her home state. She also has authored two books, "Historic Homes of Abilene" and "Abilene's Carousel."