The moment you walk through the door of the Moon Marble Company in Bonner Springs, you are greeted with an eye-treating array of unique toys, games and antique recreations of old favorite playthings. Bins of marbles, arranged like an old five-and-dime candy department, line the front wall of the store, and you feel just a little bit like you are walking back in time.The boys and I recently met Grandma there for an afternoon outing.
To say the kids were excited when we walked in the door is a bit of an understatement.
J. Reyes, who leads official tours of the store, says people are often surprised by what they find there, particularly by the number of other things they offer for sale besides marbles. You can buy handmade and machined marbles as well as other small glass sculptures in addition to a huge selection of unique toys. There is also a room where kids are invited to play and live marble making demonstrations in the back of the store.
While it looks like this store has been hidden for decades along K-32 in Bonner Springs, the Moon Marble Company is actually a relatively new store. They opened in 1997 as Moon Marble after first operating for many years as a wooden toy and game board company.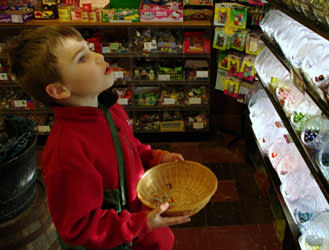 I do imagine the folks at Moon Marble Company spend a good portion of their time picking up marbles off the floor and re-sorting their sorted selections. (Both of my kids immediately reached their hands into bins of marbles mere seconds after we arrived.) They don't seem to mind though. The unique store is set up to encourage exploring and learning. It is the only one in the country where you can buy machined and hand-made marbles as well as watch them being made. Over 12,000-kids a year, come here for field trips and tours. That doesn't include the countless numbers who just come through with their family like we did.An official tour of the store includes:
·         lessons in how to play marble games
·         marble making demonstrations
·         the chance for each child to pick out a tube of marbles.
For a large group, you have to plan a tour in advance, but anyone can just walk in, explore and enjoy what they have to offer anytime they are open.
If you plan your visit on a Tuesday, Friday or Saturday you can also enjoy live marble making demonstrations. We got to watch a glass sculptor making a marble monkey, complete with a little red fez. She offered a little history of marbles and glass working as a part of the demonstrations. What I found most interesting was that a handmade marble has to be put in a kiln for several hours after it is made to let it cool down. The demonstrator said it could explode if it wasn't allowed to cool down properly. I had no idea marble making was such dangerous work.
My kids really enjoyed picking out their marbles-by-the-pound, but I will admit I was glad for Grandma's help in getting them corralled. They were so excited by the place in general, that the man-to-man defense was useful – or else those folks might still be picking up marbles.This is a great family stop. The tour doesn't take very long and can easily be tucked in with other adventures in the area. Enjoy!

Karen Ridder is a freelance writer living in Topeka. A former News Producer for KSNW-TV in Wichita, her work can also been seen in print publications including: Topeka Magazine, TK Magazine and the Topeka Capital-Journal. She has written for several national blogs and was recently recognized as one of the 2011 winners in the Annual Kansas Factual Story Contest. Karen has lived in Kansas for 15 years and married a native Wichitan. Together they are raising two little sunflower boys and a dog named George.