It was November 27 and it was cold; a perfect morning for pheasant or duck hunting, and as much as I love to hunt birds, you would have assumed I was visiting Geary County to do just that. But I wasn't. Bundled in my cold-weather bibs and parka, I turned the key and the outboard motor rumbled to life as my friend back the boat trailer down the Wakefield ramp on Milford Lake.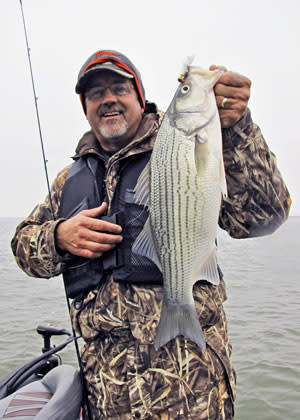 Milford is the kind of lake that will pull a die-hard bird hunter out of the fields and onto the water on a sub-freezing November day.
Covering more than 16,000 acres, Milford Lake, just 5 miles Northwest of Junction City, is Kansas' largest reservoir. It can also lay claim to one of our most picturesque bodies of water, featuring clear water and a rugged, rocky, timbered shoreline. But if you're an angler, what you really want to know is what lies beneath the water's surface, and Milford doesn't disappoint.

My friend and I were looking for Wipers (Striped Bass/White Bass hybrids) and White Bass. The forecast called for unusually warm temperatures, but a heavy morning fog kept the air frosty. I had heard stories about fantastic fishing at Milford all fall, but was skeptical of our chances because of the cold temperatures. However, on my fifth cast along the rip-rap of the Wakefield causeway, my worries were put to rest. As I let the white curly-tail jig settle, I felt a light tap and set the hook into a fat White Bass.
We caught dozens of big white bass that day, as well as some very nice wipers.  It was easily one of my best fishing outings of the year, maybe of the decade. Even though Milford is a two-hour plus drive from my home, I vowed to fish it more often.

Along with its reputation for wiper fishing, Milford is famous for it's smallmouth bass fishing. Smallmouths thrive in Milford's clear waters and rocky shorelines, and they grow big. The current state record smallmouth, weighing 6.88 pounds, was caught just last spring from Milford. In April and May smallmouth fishing can be fantastic.

But Milford is also known for its walleye and crappie fishing, and there's a hardcore bunch of anglers who catch channel catfish and giant blue catfish from Milford through the summer.
So I guess you could call Milford an all-season lake.  Early spring will feature walleye and wipers.  Then white bass will gather to make their annual spawning run in the creeks and river.  Smallmouth bass will be caught shallow next. Crappie move up to the shallows in late-April and May, then walleye move to the flats. The bass fishing, both smallmouth and largemouth, will be great in late May and June. Then the summer belongs to the catfish anglers, big blue cats, channels and flatheads. In late summer and early fall, the white bass and wipers will be found chasing shad on the surface. And of course, don't overlook a late November opportunity. You might miss the best fishing trip of the decade.

Mike Miller grew up in Greensburg, hunting and fishing in the fields, grasslands and farm ponds of Kiowa County. He's worked for the Kansas Department of Wildlife and Parks in Pratt for 28 years, and currently heads the Information Production Section, editing and producing Kansas Wildlife & Parks magazine, as well as a variety of other publications. He spends his spare time hunting birds and fishing for whatever is biting.