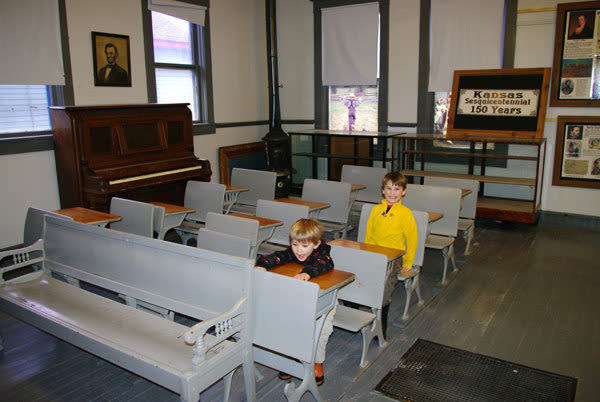 A visit to Dodge City was like a dream come true for my older son. At home, my husband makes it a special treat to watch old Western movies when they have a "guy's night." So, my six-year-old had a pretty good John Wayne impression down by the time he was four. To say the child "likes" cowboys and gun-slinging is a bit of an understatement.

When we arrived at the Dodge City Visitor Information Center, we were met by a real-life-honest-to-goodness Deputy U.S. Marshal. I thought my son would go over the top with excitement. Who needs Disney anyway? [[endteaser]]

Marshal Charlie Meade has led thousands of people on tours of Dodge City, giving personal perspective of his own life there and telling stories about the area's history. My son kept eyeing his gun, and as the marshal led us on a walking tour of the Trail of Fame, he stuck close to this new hero's side.

Dodge City is a great family spot that is super easy to get the kids excited about. It was the end of the line for the Santa Fe Railroad in 1875. That meant that cattle drives from Texas ended in Dodge City. The cowboys who stopped there to relax and get rowdy became known for putting the "wild" in Wild West. If your kids already know a little about this piece of Americana, like our family, then the thrill is immediate. If not, there are tons of books, movies and TV shows to help you set the stage for a trip. The Visitor Information Center also offers plenty of good information on guided, audio and trolley tours.

Since most of the town's original buildings were wooden, they were destroyed by fire in the 1880s. However, the best spot to re-live Dodge City's early days is at the Boot Hill Museum and Front Street. A re-constructed version of the town's first storefronts was built there, just a short distance from the site of the original business district. In the summer season, gunfighters and other re-enactors help take you back to Dodge City in the 1870s. The museum is also home to the infamous Boot Hill cemetery – a place that got its nickname from unlucky gunfighters who had to be buried with their boots on. It's a great place to visit – a lot of fun.


For bigger kids, the newest thrill in Dodge City is the first state-owned and operated casino. Boot Hill Casino has 580 slot machines and thirteen table games – blackjack, craps, roulette and poker. Expected to become a regional destination, the casino sits next to the new United Wireless arena, which is an entertainment venue and conference center. Work is also underway for a hotel resort connected to the casino.

Dodge City has a variety of other attractions, including the Gunfighter's Wax Museum, the Fort Dodge Museum and a site where you can still see ruts from the Santa Fe Trail. All of that makes it a great weekend destination. AND, if you are lucky enough to meet Marshal Meade when you go, make sure he tells you about being born in a hearse – delivered by a U.S. Marshal when Dodge City was still just a little bit wild.

Karen Ridder is a freelance writer living in Topeka. A former News Producer for KSNW-TV in Wichita, her work can also been seen in print publications including: Topeka Magazine, TK Magazine and the Topeka Capital-Journal. She has written for several national blogs and was recently recognized as one of the 2011 winners in the Annual Kansas Factual Story Contest. Karen has lived in Kansas for 15 years and married a native Wichitan. Together they are raising two little sunflower boys and a dog named George.