Just when I thought I couldn't love Kansas anymore than I already do, I happen upon the 25th Annual Kansas Championship Ranch Rodeo in Medicine Lodge. I fell hard and fast for the historic area, from its captivating landscape and openness of the people to the peaceful pace of life. A trip there envelops you in natural beauty, reminiscent of the Flint Hills in the same quiet, breathtaking way.[[endteaser]]
Fittingly, the rodeo celebrates this countryside and the lifestyle of those who live there by inviting ranch teams to compete in events that mirror their daily work. At the rodeo, sanctioned by the Working Ranch Cowboys Association (WRCA), 12 teams from around the state demonstrated their bronc riding, cattle doctoring, wild cow milking, penning and branding skills. This year's event also featured the nationally known, Western Music Association artist, R. W. Hampton, a cowboy balladeer, plus a cowboy trappings and trade show. The purpose of the rodeo is, in part, to help preserve Kansas ranching heritage. It's also part of the town's Indian Peace Treaty Pageant, which commemorates the great Peace Council of 1867 between the U.S. Government and the Plains Indians. (Memorial Peace Park and a Peace Treaty Historic Marker are just down the road from the rodeo grounds.)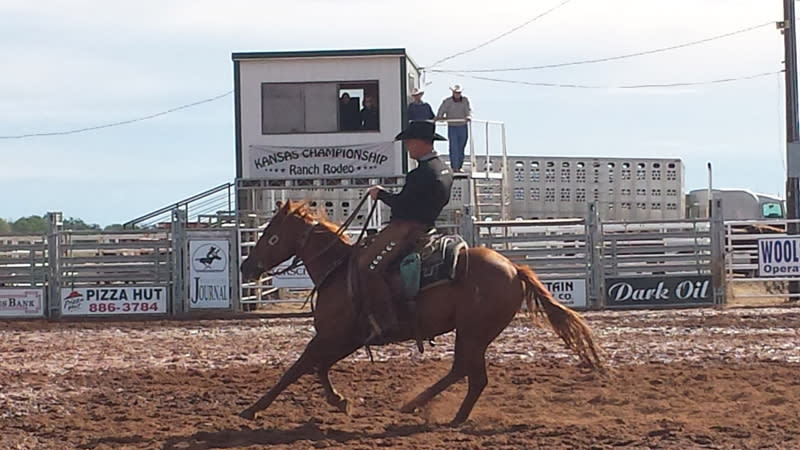 Most have only witnessed such lifestyle on TV, but it's very real in this Southwestern Kansas town. Let's just say, when we rolled into town and stopped for coffee, a couple of cowboys - picture real-life (former) Marlboro men - held the door for me, my son and daughter. I swear they tipped their hats and mumbled "mornin' ma'am" but that might only be wishful thinking. I got back in the car and instructed my husband to drive quickly to the rodeo grounds. There, I was not disappointed. Kids rode bareback through waving prairie grasses while parents competed. Stoic cowboys and cowgirls sat in the saddle, ready to enter the arena.
Now might be a good time to share that I was raised in the country, around animals. I am more than familiar with and comforted by a fuzzy muzzle, the distinct smell of livestock and feed, the dedication, smarts and grit it takes to work a farm or ranch. It's 24/7. It's your life, not a job. The rodeo served as a showcase to this lifestyle. This character was represented in the faces of the rodeo teams; their intensity and focus was both intimidating and inspiring.  
Even given my upbringing, there were a few things I learned:
No matter how cute, never wear a knee-length skirt on a (very) windy Kansas day. This will attract smirks and pity from the more experienced attendees.
Not only are boots and hats stylish; they are also useful and necessary. (I picked more than one sand burr out of my not-so-practical shoes.)
Cute dogs abound when ranch folks gather. We met - and pet - our fair share of pooches with fun names, such as Roxy and Howdy.  (Some of them even wore boots of the canine variety.)
And the view was a bonus. Visible and beckoning from the rodeo grounds are the red-toned crests, mesas and canyons of the Gypsum Hills. Traversing the Gypsum Hills Scenic Byway, from the western edge of town, especially when wildflowers are still in bloom, is something every traveler should experience. It's a place where epic Westerns could have taken place and John Wayne would have ridden off into the sunset.
On the weekend of the rodeo, the town also was celebrating Indian Summer Days, with events and vendors lining the brick-lined downtown and a Pow Wow set up in the city park.  Barber County State Lake is nearby and offers lovely fishing spots. You also can visit the Stockade Museum and temperance activist Carrie Nation's home. And, how cool is this? The town still has a drive-in theater! At the Barber County Veterans Memorial, you'll find a stunning wall full of local heroes' names and a piece of beam from the Twin Towers.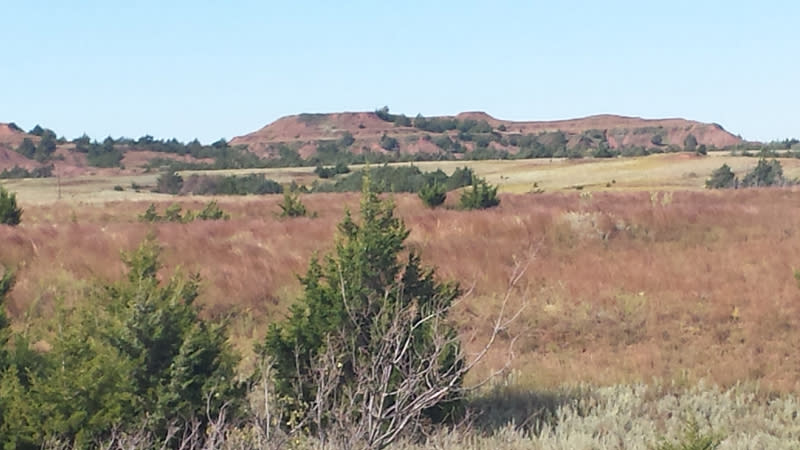 This trip, at my age and with my family in tow, reminded me of a very different me from long ago. Born and raised in Kansas, I left for college and then Europe with the thought that I would never come home to settle. I might instead live in New York or Chicago, where I would join the ranks of national journalists.  I backpacked through Spain, France, Greece and Italy. For a year, I settled in Madrid. Why do I tell you this?  Because many other places, while amazingly beautiful, can also be stinky, crowded, smoggy, fast and loud. And when I came home to visit, I stepped off the plane in Kansas City and was struck dumb and thankful for the fresh air and breathtaking blue sky of my beloved state. This memory is so vivid to me. I was home to stay. Last weekend, the sky over those rodeo grounds was a similar, magical shade that never ceases to amaze me, and affirms that Kansas forever is my home and favorite travel destination.
Until you can make a trip this way, keep up with Medicine Lodge on Facebook or through the The Gyp Hill Premiere.

Robin Jacobson Lampe can frequently be found tooling down the road, hiking a trail, or paddling a river - with friends, family and canines in tow. She has traveled throughout the Caribbean, Ireland, Spain, Portugal, Italy, France, and Greece. However, her favorite places to navigate remain the scenic byways, waterways and prairies of her native Kansas. All the while, she makes a living as a writer.