Sample this dish, then visit the elegant Lyons Twin Mansions in Fort Scott, Kan.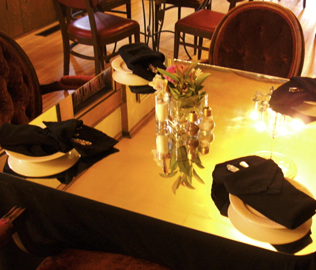 Since 1989, the Lyons Twin Mansions Bed & Breakfast in Fort Scott, Kan., has been treating visitors to a comfortable stay in plush surroundings. Guests also enjoy complimentary breakfasts, including Eggs Benedict, omelets and Signature Sausage burritos. Now, you needn't spend the night to enjoy the Bed & Breakfast's finely prepared foods, because the Lyons Restaurant has been recently opened to the public.[[endteaser]]
Breakfast, dinner and lunch patrons may choose from made-from-scratch menu items, including fresh spring-mix salads, club sandwiches and freshly prepared pastas. You can sample the Lyons Restaurant's good tastes by preparing their poached pears recipe offered here. Then learn more about the restaurant and Lyons Twin Mansions, standing side by side since 1876.
Lyons Restaurant's Poached Pears in Raspberry Sauce
4 Bartlett pears, still firm, not fully ripe
2 Tablespoons imperials (also known as red hots)
1 quart apple juice
Poached Pears: Using a tiny melon-baller, scoop out the core and seeds from the base of each pear. Peel the pears, leaving the stem intact. Place carefully upright in a saucepan just a bit larger than the group of pears. Cover completely with warm apple juice into which the imperials have been melted. Simmer gently until the pears are fork tender (about 20-30 minutes). The pears will still have enough substance to stand up on the plate.
Raspberry Sauce: 10-ounce package frozen raspberries. Partially thaw, then puree in a blender.
Cinnamon Whipped Cream:
8 ounces heavy cream
1/4 cup sugar
1 teaspoon pure vanilla
1/4 cup sugar
1/2 teaspoon cinnamon
Whip the cream until fluffy. When the cream just holds a peak, it is ready.
Serving: Cover the base of a dessert plate with 1/4 cup raspberry puree. Place the poached pear, standing upright, on top of the puree on the plate (trim the base of the pear if needed for balance). Plunk a fat dollop of whipped cream at the base of the pear. Garnish with a mint leaf and three imperials to resemble a sprig of holly. Dust the entire plate lightly and broadly with ground cinnamon to the edge of the plate. Serve warm at breakfast with French toast. For a light dessert or afternoon tea, serve warm or chilled with homemade sugar cookies.