If you have the chance to spend an early spring day in the native tallgrass prairies of Kansas, you may hear the low booming sounds of a male greater prairie chicken attempting to attract a hen. Birdwatchers and hunters both flock to Kansas in search of these gorgeous birds, known for their peculiar breeding behavior.[[endteaser]]
Prairie chicken courtship takes place on sections of grassland known to biologists as leks. With as many as 40 males fluttering about the lek and producing a boom that can be heard from more than a mile away, a female can easily find the breeding grounds. Once she arrives, the males begin vying for her attention by dancing back and forth to model themselves from every angle. The hens may play hard-to-get and continue eating, or they may just watch and enjoy the attention.
Although they can be found in 10 states, Kansas is home to the largest population of greater prairie chickens. They nest in the tall grasses in the eastern third and northern half of the state, most notably the Flint Hills and Smoky Hills regions. Greater prairie chickens are known for their bright orange vocal sacs and beautiful booming calls.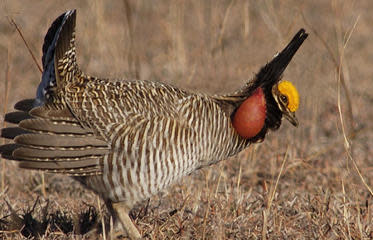 Kansas also boasts the largest population of the lesser prairie chicken, which makes its home on sandsage prairies in the western part of the state. The lessers are smaller in both size and in their numbers, as they make up roughly 25% of the prairie chicken population and can be found in only five states. These smaller birds are characterized by red vocal sacs and bubbling gobbles.
Prairie chicken hunting is permitted in two seasons. In the eastern half of the state, east of Highway 281, the early season runs from September 15 to October 15. The early season allows hunters with dogs to take advantage of the tendency for young greaters to hold well at this time of year. As the weather gets colder, the prairie chickens tend to flock together, making it more difficult to get within gun range with dogs.
Around that time, the prairie chickens start to feed in cut corn, sorghum and soybean fields. Hunters can get shooting opportunities by setting up at the margin of the fields closest to the roosting area. This is the more common way of taking greater prairie chickens during Kansas's regular season, which runs from the third Saturday in November to January 31. Hunting for lesser prairie chickens is restricted to the regular season with a daily bag limit of one, whereas the daily bag limit for greaters is two.
All prairie chicken hunters are now required to purchase a $2.50 prairie chicken permit that allows the Kansas Department of Wildlife, Parks and Tourism to better track the harvest and improve management activities.
Both species of prairie chicken are of conservation concern, and the lesser prairie chicken is a candidate species for federal listing under the Endangered Species Act. While hunting is currently allowed, drought and habitat burning may be the biggest challenges to the prairie chickens' survival. Conservationists are researching the prairie chickens' habits in hopes of finding a way to improve their habitat and increase numbers so we can continue to enjoy this Kansas treasure.
Photo and video provided by Kansas Department of Wildlife, Parks and Tourism
Jimmy Sevcik is a writer living in Kansas City. A resident of the Sunflower State for most of his life, he's a big fan of Kansas City's professional sports teams and may never forgive his parents for leaving him with a babysitter while they attended the 1985 World Series. ("So what if I was only a year old, Mom?") In his free time, Jimmy enjoys camping, fishing and adventuring throughout the Midwest.