While working at a marina in college, I pulled out dead minnows from our live tanks and threw them off the dock every day. Usually, I'd watch the minnows float away to see carp and crappies come up to snatch an easy meal. One slow morning, a big fish appeared out of nowhere, grabbed a minnow, and was gone in a flash. I ran up to the marina to grab a hook and line. I dangled another dead minnow just off the dock and before I knew it, my line snapped by that same lightning-fast strike.[[endteaser]] 
That fish broke my line numerous times the rest of that summer, and I never did reel him in. Ever since, I've wanted to catch a fish that would strike as hard and put up a fight.
With that memory in mind, I recently headed out to Milford Lake in pursuit of wiper, a fish known for striking bait with gusto and fighting hard.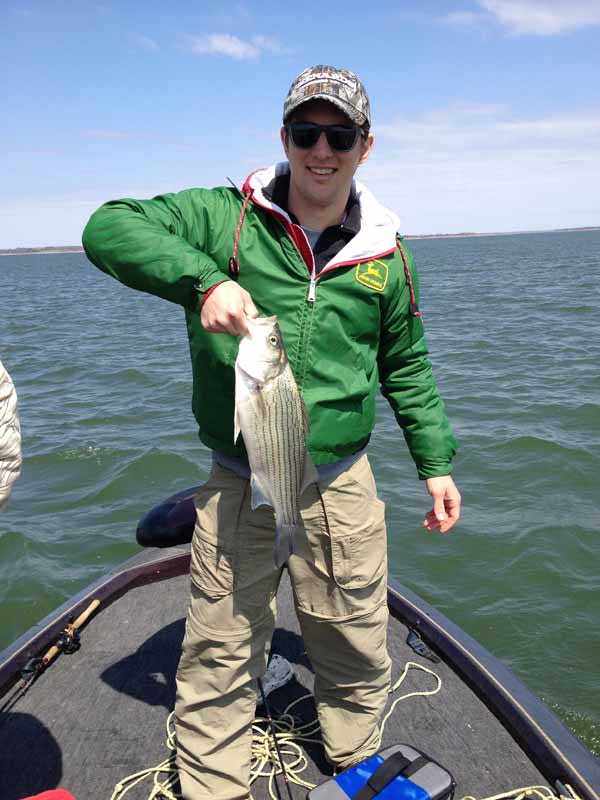 After sleeping in to avoid near-freezing temperatures on an early April morning, we headed out to the south side of the lake near the dam. Braving a chilly wind, we trolled along a shelf just off the bank trying to keep warm. As we passed over a point, my dad felt a quick and hard tug on his line for our first wiper of the day.
For the next hour, we trolled back and forth over the point with a slab spoon tied to our lines. By the early afternoon, the five of us had nearly caught our daily limit of two fish each. In between our battles with wiper, a school of white bass kept our lines busy. Including the white bass and a random smallmouth, we caught about 20 fish in just a few hours, sending us home in good spirits.
Wipers are a hybrid of the striped bass and white bass. You can distinguish a wiper by the broken horizontal stripes along its body, as opposed to the solid stripes of a striped bass. They combine the aggressive feeding habits of both the striped and white bass to make for an extremely fun fish to catch.
Wipers, among many other species of fish, are stocked in Kansas reservoirs each year, providing plenty of opportunities for fishers of all experience levels. My five-year old cousin reeled in just as many fish as I did that morning, proving that fishing Kansas reservoirs can be fun for the entire family.
Milford Lake is located just northwest of Junction City and is an easy drive from anywhere along the I-70 corridor. Campsites and cabins dot the adjacent state park providing a place to escape for a perfect weekend getaway.
Jimmy Sevcik is a writer living in Kansas City. A resident of the Sunflower State for most of his life, he's a big fan of Kansas City's professional sports teams and may never forgive his parents for leaving him with a babysitter while they attended the 1985 World Series. ("So what if I was only a year old, Mom?") In his free time, Jimmy enjoys camping, fishing and adventuring throughout the Midwest.