Standing in awe at the unique oil paintings in the Birger Sandzén Memorial Gallery in Lindsborg, I realized the Swedish-born artist's signature use of vivid colors and bold brushwork reminded me of a mural in the Belleville Post Office I'd seen as a child. Gallery Director Larry Griffiths said Sandzén painted murals in post offices in Halstead, Lindsborg and Belleville as part of the Works Progress Administration program in the 1930s. It's no wonder I have grown to love Sandzén's paintings, especially the larger pieces found in the gallery that bears his name.[[endteaser]]
I discovered Sandzén studied art in Sweden and Paris before coming to Lindsborg to teach at Bethany College from 1894 until 1945. His early work displayed here reflects his time in Paris where he studied pointillism in which tiny dots in primary colors create a brighter picture to the eye. Emerging later was his signature style of thick applications of paint in vibrant colors with vigorous brushstrokes that I admire so much. I love standing close to these paintings, and then stepping back to watch the broad, colorful brushstrokes turn into beautiful landscapes.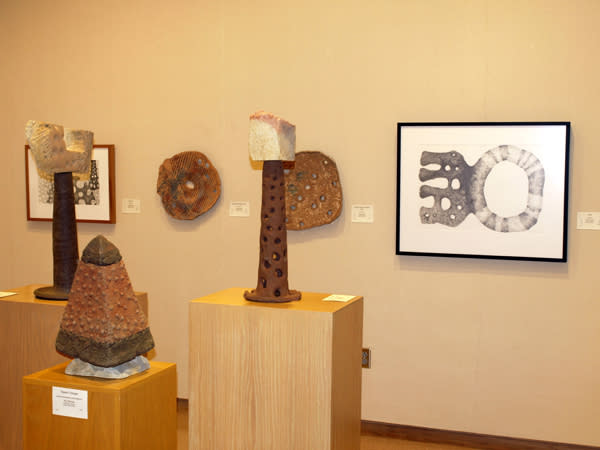 A renovation of the building housing the gallery that opened just three years after Sandzén's death in 1954 was recently completed. While his popular landscapes for years filled the large exhibition room, for the first time portraits and floral still life paintings also hang here, which I like because it shows Sandzén's diversity in oil. Also displayed throughout the gallery are other works of art he created, including watercolors, lithographs, block prints and drawings in pencil and charcoal.
With the exception of a few favorites, Griffiths said the artwork and the guest artist exhibitions are rotated every few months to ensure return visitors will always see something new. That's easy to do with a collection of over 10,000 pieces that includes Sandzén's work and his personal collection of art from throughout the world.
The gallery, which charges no admission fee, also offers chamber music, gallery talks and special programs. From March 5 through April 21 it will again host the Midwest Art Exhibition, which Larry said dates to 1899 and is the oldest annual art exhibition in the state.
Sandzén's work also can be seen in a special exhibit through March 24 at the Mulvane Art Museum  on the Washburn University campus in Topeka.
Where have you seen a Sandzén piece of art?
Cecilia Harris is a professional freelance writer from Abilene who enjoys discovering fascinating attractions, events and people that reflect the arts, culture and heritage found in Kansas. She has been a longtime regular contributor to KANSAS! magazine and also has written for such publications as Midwest Living, Sunflower Living, Kansas Heritage and The Greyhound Review to inspire others to explore and appreciate her home state. She also has authored two books, "Historic Homes of Abilene" and "Abilene's Carousel."