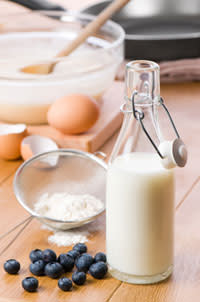 This month we're featuring a recipe from Swedish Pastries & Emporium in Lindsborg, Kan. The biker-friendly restaurant serves breakfast and lunch Tuesday through Saturday. The menu includes Swedish pancakes, meatballs, pastries and sandwiches, plus daily specials. You can also browse the gift shop featuring paintings of cats by local artist Beverly Barbo. [[endteaser]]
Try the popular Swedish Pancake recipe below, then plan a trip to Lindsborg and enjoy the art galleries, museums and great shopping and dining.
3 eggs, beaten
2 cups half-and-half, light cream or whole milk (no substitutions)
1 cup all-purpose flour
2 tablespoons sugar
1 teaspoon salt1 teaspoon butter, melted
Cooking oil
Sifted powdered sugar
Lingonberry or other jam or fruit
Sour cream (optional)
In a mixing bowl, combine eggs, half-and-half, flour, sugar, salt and melted butter. Beat with a wire whisk or rotary beater until combined and smooth (batter will be thin). Cover and chill for at least 8 hours or overnight.
Use a pastry brush to lightly coat a 12-inch nonstick skillet with oil (and brush skillet with additional oil as needed). Heat skillet over medium heat until a few drops of water dance across the surface. For each pancake, pour about 1/4 cup of the batter into the hot skillet to make a 10-inch circle. (Use the bottom of the measuring cup to spread and swirl the batter out as thinly as possible.)
Cook over medium heat for 50-60 seconds or until bottom is golden brown. Turn pancake and cook until second side is golden brown. Repeat, greasing skillet occasionally. To serve, fold or roll pancakes and sprinkle with powdered sugar. Serve immediately with jam and, if you like, a dollop of sour cream.
Yield: 12 servings