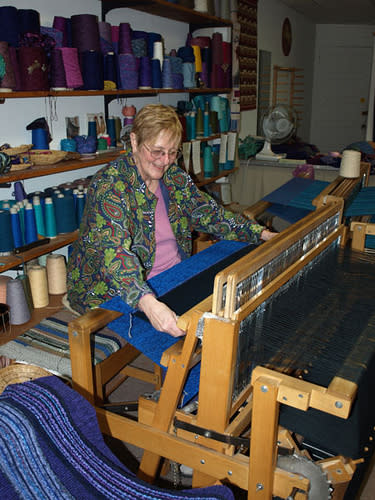 In a brush stroke of genius, studios and galleries in Lindsborg will open their doors this Spring so you can have a peek inside this artistic Swedish community with more working artists than Wild Dala Horses. And since Lindsborg is on the Kansas Prairie Trail Scenic Byway, why not spend a day at the Artists' Studio Open House and the rest of the weekend exploring this 56-mile route full of art, culture and history. [[endteaser]]

The 15 stops on Lindsborg's Studio Open House feature a palette of 21 artists and craftspeople you can chat with while watching them at work. Any other day, you still will find a handful of artists unleashing  their creativity in Lindsborg, where art is seen everywhere you look – in galleries, studios, and gift shops, painted on the sides of buildings, adorning the signs of businesses, and decorating the sidewalks.

Two of those artists regularly seen at work by the public are Shirley Malm and Elizabeth Walker. At the Hemslojd Dala Horse Factory, Shirley paints Swedish style folk art on just about anything you can imagine - in fact, the shopkeepers jokingly warn not to stand still around Shirley or she might paint you! Just down the street is Elizabeth's Handwoven Artwear, where Elizabeth creates art you can wear! Using the softest of rayon chenille yarns in vibrant colors, she crafts hand-woven fabrics she then fashions into beautiful apparel including capes, scarves, vests and purses.


Pick up a map at the Red Barn Studio Museum where Carla Wilson will be embellishing furniture with Kurbits, a Swedish decorative style of painting. Professional artist and craftsman Lester Raymer produced work in a variety of mediums at the Red Barn Studio before his death. A man ahead of his time, Raymer created several pieces of art using recycled materials.

At the Brick Street Gallery, Bruce Harding will be whittling away the time while some colorful characters of Swedish descent stand stooped nearby. Bruce, a self-taught Scandinavian flat-plane carver, creates these whimsical creatures that include a gentleman lifting a lutefisk from a barrel, an elderly immigrant couple carrying their meager belongings, and a hunter facing a cute bunny on his haunches.

Be sure to travel the short distance to the Olive Springs Schoolhouse Gallery of noted Kansas artist Maleta Forsberg. Her landscapes, florals and animals in oil, acrylic and watercolor adorn the walls of the former one-room rural school.These are just a few of the creative people on the Artists' Studio Open House tour. Who is your favorite Lindsborg artist or craftperson?

Event: Artists' Studio Spring Open House

Date: April 23

Time: 10 a.m. to 5 pm

Location: Get map at Red Barn Studio, 212 South Main Street, Lindsborg
Cecilia Harris is a professional freelance writer from Abilene who enjoys discovering fascinating attractions, events and people that reflect the arts, culture and heritage found in Kansas. She has been a longtime regular contributor to KANSAS! magazine and also has written for such publications as Midwest Living, Sunflower Living, Kansas Heritage and The Greyhound Review to inspire others to explore and appreciate her home state. She also has authored two books, "Historic Homes of Abilene" and "Abilene's Carousel."