A Faces & Places Roadie Blog 
I will begin my coverage of the Kustom Kemps of America Leadsled Spectacular in Salina by disclosing the following: I know nothing about cars. I don't know differences in engines, insides, interiors or tire sizes. My experience was solely based on pretty paint jobs, shiny colors, perfect chrome bumpers and car shapes. My husband even called me out with his "you're only taking pictures of the colors you like." Oh no no, that is not true. Well, I guess it had a little to do with it.[[endteaser]]
Pin-up contestants were intertwined in the crowd, vendors were selling retro car signs and clothes, '50s tunes were heard throughout Oakdale Park with loud engines confidently roaring and the aroma of funnel cakes wafted through the air. We saw Fairlanes and Vdubs, woodies and station wagons, low riders and Stingrays, fuzzy dice and flames. Now that I have exhausted my car vocabulary, we saw all my favorites...mint greens, aquas, oranges and yellows. All kidding aside, with over 1500 cars in attendance, the event was a big hit for Salina and a blast from the past. There were not a lot of places left to park inside the event and I could not move very far without bumping into a car admirer. Live music rocked the joint and the crowd was very busy admiring these cars from the past.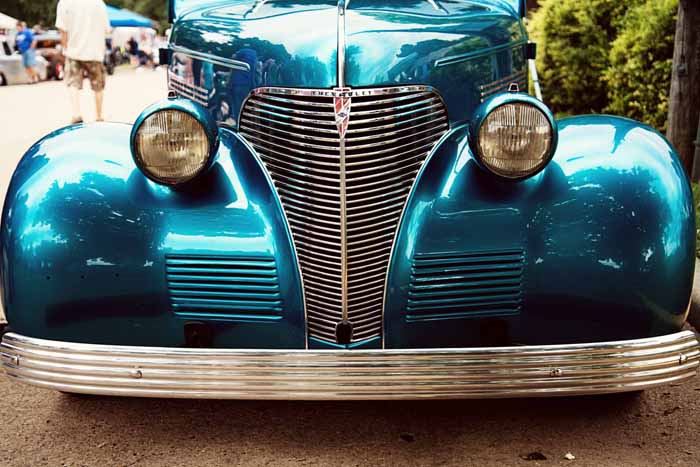 Not only is Salina's Oakdale Park and car show a main attraction, but it is also home to some fantastic eats including Martinelli's Little Italy. It was recommended to us by a friend who claims to not even like Italian food, so we decided this was a must while in town. I'm a self-proclaimed foodie and this place definitely gets two forks up. We started off with fresh baked bread and olive oil, a salad that enticed all of the right taste buds and the most amazing homemade pasta dishes. We didn't really need the side of "meatball" but ordered it for fun and I was not one bit disappointed. The seasoning as with everything else was quite phenomenal. I texted my 12-year-old several pictures of our meal including me licking the plate after devouring the "made there" tiramisu, an onery gest on my part for sure. "All my favorite foods without me"- so yes, Max, we will have to take you there.
The rest of the time on our Faces and Places trip was spent strolling downtown Salina, going in and out of antique stores and admiring the historic buildings. I was particularly fond of the ticket booth that still stands in front of the Watson Stiefel Theatre. I can see a trip back to Salina in my future and maybe next time we can take in a show.

Jenni Harrison is a Topeka native and graduate of Washburn University who owns her own business. She stays busy as a leader for a Girl Scout Troop, Cub Scout Den and the never ending duties of being a mom. Besides her high school sweetheart whom she married many years ago and their three children, her other loves include two parrots and the three dogs who surround her at all times while she is working from home.