Today we're spotlighting two Lawrence, Kan., breweries, each with a reputation for excellence in award-winning, uniquely handcrafted beers. We'll hear from Brian "Bucky" Buckingham, head brewer at 23rd Street Brewery, and Chuck Magerl, owner of the Free State Brewing Co. Tour, taste and choose your favorite brews!
23rd Street Brewery 
[[endteaser]]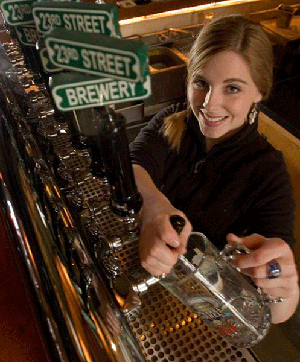 1)    Tell us about your brewery.
The history of our brewery began in 1993-94 when it was opened as the Sports Page Brewery. It then changed to Emerson Biggins, and later K.C. Hopps of Kansas City, Mo., opened it up as a second 75th Street Brewery. Later, the name was changed to 23rd Street Brewery. In 2010, the new owner brought the building outright and made it his own. I was the head brewer at 75th Street for five years or so, then I started brewing for 23rd Street in July 2007.
2)    What makes your brewery unique?
We are locally owned in every sense of the word, and the owner lets us brew pretty much whatever we want. We're all about KU and the athletics. We cater to most fraternities and sororities as well as athletic departments and press. Plus, we're an ale house, primarily. We don't bottle, but sell by the mug, pitcher, pint, half-gallon growlers and kegs out of the building.
3)    What is your one "must try" beer?
We make five seasonal beers on top of our four flagships: The Wheat Ale, Rock Chalk Raspberry Wheat, Bitter Professor IPA, and Crimson Phog Irish Red. I'd have to say our two main beers to try are Bitter Professor IPA and the Crimson Phog. Crimson Phog's the beer we won Silver for in the "Irish Style Red Ale" category at the Great American Beer Festival in 2007.
4)    Do you offer any specials or events at your brewery?
We do a lot of different seasonal brews throughout the year, so you'll never know what new brews you may be trying here. Come try our Tuesday night $7 pitchers or Wednesday's $3 pints. Though we don't have set tours, if you call ahead and we're not super busy, guests will get a brief history on brewing and a free tour of our brew house. Learn more about 23rd Street Brewery.

1)    Tell us about your brewery.
Free State Brewery is the original craft brewery in the Great Plains region. We have 23 years of experience in creating beer with flavor characteristics that continue to excite customers and assure consistent satisfaction. Our original location in downtown Lawrence has been a mecca for beer enthusiasts from the earliest days of the beer-brewing renaissance in the U.S.
2)    How did you get into the brewing business?
A friend who'd spent time in Yakima, Wash., enjoying the Yakima Brewing & Malting Company suggested I consider the business-venture idea of a brewing facility and on-premises pub. In Lawrence, when I began to look into the history of brewpub establishments, it was clear no one had opened up a new brewery in Kansas in over a hundred years. With pubs doing well in Chicago and Denver, I made the "calculated gamble" in 1988 and Free State Brewing Co. was born.
3)    Please explain your fermenting process.
Malted barley and wheat is milled, then augered into the mash ton, where it's steeped. The resulting sweet amber liquid is boiled in a kettle, where specific hops are added at multiple intervals. After the boil, the new hops-enriched liquid is transferred to a fermentation tank where yeast is added and time and temp are carefully controlled until the tank is sealed, creating a naturally carbonated, low-alcohol beverage.
4)    What is your one "must try" beer?
Our seasonals, such as Octoberfest, are hugely popular, as is the Copperhead Pale Ale and Wheat State Golden.
5)    Have you received any awards or honors for your beer?
In addition to the many accolades our beers have received over the years, our company has also been honored as one of the Eight Wonders of Kansas Cuisine, as Business of the Year by the Lawrence Chamber of Commerce, and with a Restaurant Neighbor Award by the Kansas Restaurant Association.
6)    Do you offer any specials or events at your brewery?
Free State Brewery plays an active role in regional and national beer festivals and is a vital component of the annual springtime "Brew to Brew" event, a 40-mile run from Kansas City to Lawrence that draws thousands of participants. Look for us at the State Fair in September and at the Midwest Beer Festival in Wichita in October. For a tour of our facilities, visit our website for one of our seasonal Open House announcements. And on Mondays, our brewers specially select two or three of our beers for discount as features at the downtown pub. Learn more about Free State Brewing Co.