Tap your toes to live bluegrass music or pick your own banjo or guitar at Pickin' on the Plains Bluegrass and Folk Festival July 20-22 in Colby. This event is in harmony with the long-running Walnut Valley Festival in Winfield, just on a slightly smaller scale. In fact, Pickin' on the Plains began when music enthusiasts decided to bring the music, fun and fellowship they experienced at the Winfield event to the Western High Plains of Kansas nearly 20 years ago. And what a festival it has become![[endteaser]]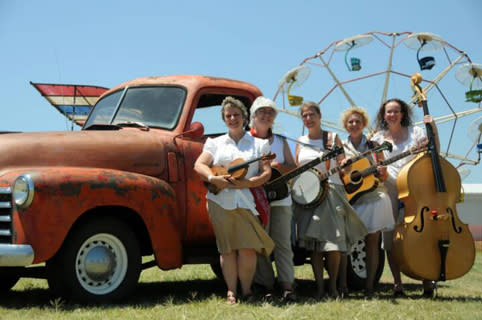 This year's lineup includes 2011 Grammy award nominee Dailey & Vincent from Nashville, Tenn., the "hottest thing on the bluegrass stage," says Leilani Thomas, director of the Colby Convention and Visitors Bureau. A few of the other talented performers scheduled include Driven, an upcoming bluegrass band with a Kansas connection; Cody Shuler and Pine Mountain Railroad from Knoxville, Tenn.; and The McLemores, a family band from Colby.
Bring your banjo, mandolin, fiddle or guitar to learn from the performing artists presenting workshops or to jam with other musicians. You can even showcase your talent on the Open Stage on Saturday morning when individuals and bands are encouraged to perform before the live audience. One key event you won't want to miss is the Sunday morning Bluegrass Gospel Homecoming featuring a Southern Gospel-style celebration of songs by this year's bands.
Start the weekend off by bringing your instrument, a covered dish and lawn chairs to the free potluck dinner and jam session on Thursday evening for some pre-festival fun.
If you've been to Pickin' On The Plains, post your favorite picture here!
Cecilia Harris is a professional freelance writer from Abilene who enjoys discovering fascinating attractions, events and people that reflect the arts, culture and heritage found in Kansas. She has been a longtime regular contributor to KANSAS! magazine and also has written for such publications as Midwest Living, Sunflower Living, Kansas Heritage and The Greyhound Review to inspire others to explore and appreciate her home state. She also has authored two books, "Historic Homes of Abilene" and "Abilene's Carousel."