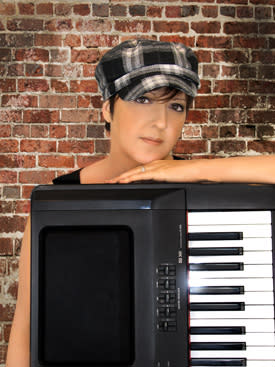 Kansas musician Kelley Hunt has earned the respect of critics and fans across North America and Europe with her music steeped in blues, roots and gospel traditions. She has graced the stage at premier American and International music festivals but Kansas is where her heart is.That made her the perfect choice to create the music for a new set of commercials from the Kansas Department of Wildlife, Parks & Tourism, promoting the Sunflower State as a vacation destination.[[endteaser]]
What was your first reaction when you were approached about this project?
I was intrigued by the idea from the start, to represent the state in a positive way. I thought this could be a great opportunity to do something fun for my home state.
How did you get started?
We had some conversations and I looked at the images they planned to use and thought, "hmmmm, this is good stuff, but I need more." So I interviewed Richard at the Tourism office and the more he talked, the more the creative juices started to flow. I looked at the video footage, and I'd been to every place they'd shot. I started to get that buzz and thought, "Okay… I've started my process."
How do you capture the music once you have it in mind?
We have a home studio so I have ways to record and document what I'm doing. I can just go to it and get my ideas down. Or I can just walk into my living room and sit down at my grandmother's piano. That's usually where I practice piano and many times I'll just write there.
You are a rarity in the music business because your music isn't easily categorized. Can you speak about that?
I think that may be a reflection of where I grew up and how I grew up. I think growing up smack dab in the middle of the United States, in a family that wholeheartedly embraced every kind of music you can think of, I became intrigued with the idea of the song itself.How do you develop the story for a song?
I think a lot of it just comes from being interested in everyone's experience in life. Not just my own. I'm around so many situations because I travel a lot both in this country and other countries. I really like to observe and listen to what stories people are living.
It's difficult for people who aren't involved to see music as a business, but you obviously view it that way.
It is my job. It's one of my reasons for being on the planet. I'm not driven to do other work in the world. I'm driven to do this work. I call it work, but for me it's mindful play. It's a joy for me to do this. I just feel like I was born a musician. I've always been drawn to it. I've always wanted to do it and I've always just done it.To learn more about Kelley and listen to her music, check out her website. Or find her on Facebook, MySpace, YouTube and Twitter.

Patsy Terrell makes her home in Hutchinson where she writes, reads and ponders life's big questions like where to find homemade pie. Alternately she takes to the road and shares her experiences at various online locales. She is passionate about connecting with others through traditional and new media.