A Faces & Places Roadie Blog
Twenty-three farms were featured October 6 and 7 at the Kaw Valley Farm Tour. Apple orchards, vineyards and honeybees were just a few of the farm specialties along the route. The tour, now in its eighth year (traditionally held during the first weekend in October) invites visitors to experience the diversity of agriculture throughout the Kaw Valley. My mom, my aunt and my grandma rode along with me on this trip. They're Kansas farm women, they're interested in farming practices, and they've been waiting for a ride in the Faces & Places Tour van.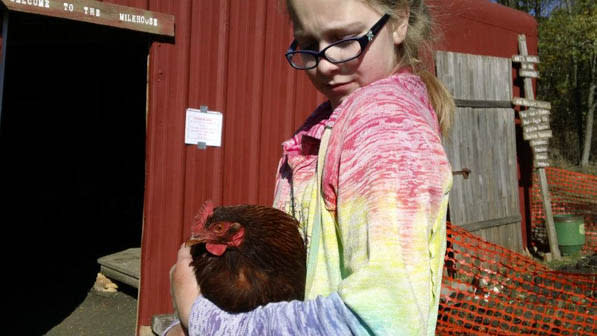 Our first stop on a beautiful fall morning was Amy's Meats, located just north of Lawrence on Wellman Road. Nestled between wooded rolling hills, Amy's Meats is an inspiring example of one small Kansas farm's reliance on family and community support, sheer determination and a lot of love. Dan Saunders, Amy's husband, met us at the gate and directed us to the milk barn where Amy was preparing to milk Peaches, her Jersey dairy cow. Meanwhile, one of the Saunders' sons was arranging a table of lotions and oils made from the family's bees while the other was introducing visitors to his flock of sheep. In addition to raising cows, pigs, chickens and honeybees, the Saunders family homeschools their three children. With acres to explore and study, Amy says multiplication practice sometime takes place among the rows of tomato plants.The kids negotiate chicken chores and kitchen duties, and they know their way around the garden.
Recently, Americans have shown a growing interest in their food supply. In response, farmers like Amy are taking an active role in educating consumers. The tour invites visitors to take a closer look at the land and the food it produces. By making a connection with the land, consumers make healthier food choices, support local farmers and encourage sustainable farming practices. Amy stresses the importance of including consumers in the production of food by promoting a CSA (community supported agriculture) program as part of the family's farming operation. In addition to receiving produce from Amy's gardens, supporters of the CSA program volunteer a small amount of time to assist with food production.
From Amy's Meats we traveled east of Lawrence to Pendleton's Country Market. Karen Pendleton and her husband John offer a varied mix of vegetables, bedding plants, garden gifts and cut flowers. Open 8 a.m - 5 p.m. Monday - Saturday and 12 - 5 p.m. Sunday, it's an ideal destination for younger visitors, offering a seasonal butterfly garden, maze, art projects and hayrides.
Karen, too, inspires visitors with her boundless energy and love for the land. She eloquently describes the emotional rollercoaster of living on a Kansas farm. "We have joy in our hearts because we're outside doing what we love." But, then, she notes, you also have to deal with the harsh economic realities. In spite of the ups and downs, she remains optimistic. After all, "Who gets to see the sunsets I see?
"Karen says farmers today have to be creative in their approach. A bit of advice: "Always use your children." She says her kids often help her at the local farmer's market. When they were younger, customers found it hard to resist their charms. "We had an overabundance of cherry tomatoes one year," said Karen. She set up a small stand for her son next to her own stand. His boasted a sign that read, "Please help me take my family to Worlds of Fun.""You can guess who sold the most tomatoes," Karen replied.

Jessica is a teacher, librarian and mom who lives in Holton. She loves all things summertime: Gardening, lazy days at the lake, farmers' markets, and family vacations. Some of her favorite Kansas places include the Art Lab at Washburn University, the Topeka Shawnee County Public Library, the Konza Prairie and Main Street in Newton. She joined the 2012 Faces & Places Tour because it is an exciting opportunity to explore and write about her home state – and drive a really cool van.