What can be better than watching a gorgeous fireworks display, every ember trail and brilliant explosion mirrored in a lake that's coating you in a cool breeze?
Getting to do it two or three times at Kansas state parks! Here's a list of Kansas state parks offering fantastic views of lengthy, and brilliant, displays across the upcoming week of celebrating America's Independence.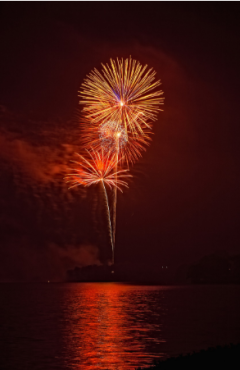 Consider making a day of it since some parks will have special events throughout their day of celebration. All offer easy access to water and good opportunities for picnicking, fishing, disc golf, great hiking trails and more.
Daily vehicle permits are $5 and can be purchased at the park's entrance. Remember to park in designated areas, and that it's illegal to ignite personal fireworks unless the state park manager has designated a special area.
The fireworks display from the park's Toronto Point camping area has become one of the region's biggest attractions. Guests will be directed to specified parking and viewing areas as soon as they enter the campground.
Fireworks will be launched from the park's Osage area. Best viewing will be in the Cheyenne, Kanza, Osage and Sioux campgrounds. At 9 a.m. that morning a day-long celebration will begin for the opening of the Waconda Visitor and Education Center at the park. A variety of activities for kids and refreshments are planned.
Fireworks will be launched from the Walleye Point area, where there is plenty of parking and space for viewing. Watching the fireworks from boats has become a tradition at Lovewell State Park. All watercraft must meet state and federal regulations.
Any place on the east side of the park can offer good views of their fireworks display, particularly the Kansa, Red Oak, Osage, and Bunkers Cove campgrounds.
Lakeview and Hilltop campgrounds and the Townsite area are great places to watch the display put on by the Friends of Webster State Park. The celebration begins at 8 a.m. with a flag ceremony at the park office, then there's a poker run for cars, bikes and boats beginning at noon. The group will hold a cookout at the Townsite area beginning at 6 p.m. Guests will be asked to make a free-will donation.
The park's swimming area probably offers the best view of the fireworks, but there's really not a bad place to pitch a lawn chair and enjoy the park's biggest event of the year. Beginning at 5 p.m. grilled burgers and other food will be sold by Friends of Crawford State Park.
The lake's marina annually provides a great fireworks display near the southern end of the dam. That means about any place in the Langley Point Area of Kanopolis State Park can offer fantastic looks.
The El Cuartelejo parking area is the prime location for watching a legendary fireworks display over nearby private property. Viewers are reminded parking in the cabin area is restricted to those renting the cabins. It is also illegal, and dangerous, to park along Highway 95, just outside the park.
Wilson State Park-July 7 (Rain date to be announced)  
The fireworks display at one of America's most scenic state parks can best be seen from around the Hell Creek boat ramp, New Otoe Beach, Dakota and Sunflower Campgrounds.