It was just getting light, and we were last in a line of four vehicles slowing down along a sepia-shaded stubble field to our right. Dust lingered in the air, creating red halos around the taillights of the trucks in front of us. I leaned up to look out the window on the passenger side of the truck, wondering what the stubble field held and feeling such incredible excitement, I thought I would burst.[[endteaser]]
That was over 40 years ago. I was 11 years old and although I was absolutely thrilled about stepping into my first-ever pheasant hunt, I had no idea how that morning would impact the rest of my life. As I reminisce, I remember the boyish joy exhibited by my dad's friends as they climbed out of vehicles, donned hunting vests and loaded guns. The dusty air was thick with anticipation of what that opening day stubble field held. Everyone was excited, but I didn't think any of them could have felt what I was feeling.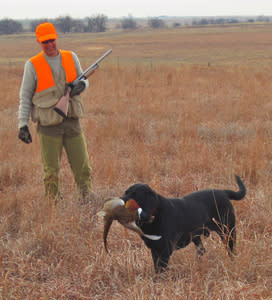 I've been pheasant hunting in Kansas ever since, and over those 40 years, I've seen good years and not so good years. However, I've learned that Kansas pheasant hunting will always rank in the top three among states where pheasant hunting is available. Much of Kansas is tailor-made for pheasants, a species that thrives in a landscape that offers mixture of native prairie, agricultural crops and fallow cropland. Of course, the single biggest limiting factor in pheasant numbers is the weather. Drought and severe summer heat can sometimes hurt the pheasant population in a region of the state that normally provides outstanding hunting.
However, Kansas is a big state and for a hunter willing to travel, there are some good pheasant hunting opportunities in the northwest quarter of the state. The best advice is to get the most recent Kansas Hunting Atlas, which provides maps that highlight all the public land, as well as Walk-In Hunting Areas (WIHA). The WIHA program leases private land and opens it to public hunting and has more than 1 million acres enrolled.  Study the latest version of the Upland Bird Hunting Forecast and keep moving around until you find good habitat and birds.
Younger hunters may know of Kansas' reputation as a trophy deer state, but that's only been established in recent years. Kansas has long been a prime destination for the upland bird hunter, and there's great hunting for bobwhite quail, prairie chicken and the king of upland birds, the ring-necked pheasant. There is a grand pheasant hunting tradition in Kansas, and opening weekend is a magical date for hunters. Even when bird population forecasts aren't so positive, hunters return. They come to renew friendships with fellow hunters and landowners, to reunite with family and to become reacquainted with the land they love.
Don't worry if opening weekend has already passed, as late-season hunts can sometimes be even more productive. A little snow and cold weather will concentrate birds in heavy cover and make them easier to find and flush. And hunting pressure usually drops off after the first two weeks, so you'll often have public areas to yourself.
During pheasant season take advantage of one of the most popular hunting traditions in Kansas. 

Mike Miller grew up in Greensburg, hunting and fishing in the fields, grasslands and farm ponds of Kiowa County. He's worked for the Kansas Department of Wildlife and Parks in Pratt for over 28 years, and currently heads the Information Production Section, editing and producing Kansas Wildlife & Parks magazine, as well as a variety of other publications. He spends his spare time hunting birds and fishing for whatever is biting.