Must-haves for the Wetlands and Wildlife National Scenic Byway: a map to ensure you don't miss your turn and binoculars (if you have room in the saddle bags).[[endteaser]]
This was the most technical of all the byways we've traveled thus far. A multitude of turns, short jaunts down one county highway to another and zig-zagging across the Central Kansas countryside. It's also the wildest - at least in terms of birds and animals that call this area home year-round and those that make a temporary stop on their annual migration.
Running through the Cheyenne Bottoms and Quivira National Wild Life Refuge, the 77 miles of byway runs past more than 60,000 acres of wetland. Similar to the Gypsum Hills Scenic Byway or the tree-lined roads of the Glacial Hills Scenic Byway, this is another area that could surpass your expectations of what Kansas has to offer. While this area has been receiving a steady amount of rain over the past few months, the wetlands are still recovering from the past three years of drought. Rather than water spreading around you as you travel, you'll see a sea of grasses. One time you may ride through this refuge for migrating birds and view grasses as far as the eye can see. The next time, you may actually see the wetlands in action, filled with those much-needed rains. Either way, you'll be guaranteed a natural beauty to behold.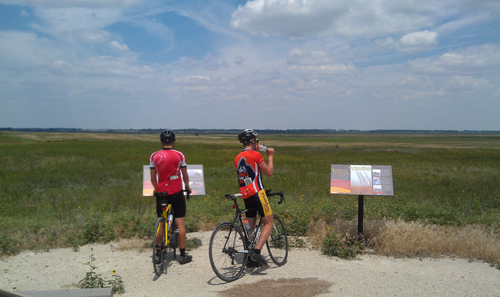 Our trip along the byway began west of Hoisington. A scenic overlook brought a great place to stop and stretch. Besides the sound of a combine in a nearby field, the air was filled with the sounds of grasses rustled by the ever present Kansas wind and the songs of a multitude of birds. As we rode through Hoisington, we noticed the metal art adorning the light poles in town, showing this area's pride and interest in their feathered friends and the visitors those birds bring to the area.
In between the two wetland areas is the Kansas Wetlands Education Center. We rolled in after they had closed for the day. However, we were able to take a walk along the interpretive nature trail. Upon return, we were greeted by two of the staff, who wanted to ensure that we weren't having any issues. They spent a fair amount of time-sharing information about the center's current activities, future plans and the wildlife we could see around us. This will definitely be a place to come back to; we could really see their passion for the work they were doing to show guests the wonder of the area.
The Quivira National Wildlife Refuge offered up a great deal of places to stop and see the birds, prairie dogs and other wildlife that inhabit this area. We traveled through outside of the migration times (March through May and August through October). While we missed out on the busiest time of the year, I guarantee we'll return to see all the feathered guests that make this a stop on their annual trip from Canada to the Gulf of Mexico.
The final two stops that were highlights of the trip were Joan's Cafe in Stafford and the underground tour of downtown Ellinwood. Joan's gave us some home style cooking with terrific pie at the end. This place showed us great down-home Kansas cooking. The Underground Tunnels at Ellinwood are a unique glance into the past. Settled by Bavarian Germans in the 19th century, Ellinwood is able to show visitors how their once bustling underground community worked. Our tour guide was knowledgeable and enthusiastic to share his stories of days gone by.
As with each of our byway trips, the Wetlands and Wildlife National Scenic Byway gave us beautiful roads to ride, interesting history and sights to take in. This is yet another place that we'll come back to explore more thoroughly, this time with binoculars to watch the winged travelers at the height of migration season.

Sarah Larison lives and works in Holton. When she is not working in quality and risk management, Sarah is an avid reader, amateur gardener and loves to spend time in the kitchen with her chef's assistant, known to most as her daughter "Mini-me". A native of Manhattan, Kansas, Sarah loves to cover miles across the state either in running shoes or on a Harley Davidson Wide Glide with her partner-in-crime, Zeb.  Discovering a beautiful view, a local dining experience or a great road to travel upon is a real joy to this riding team.