Last, but not least.  The Smoky Valley Scenic Byway was the last of the eleven byways we traveled this year, but it definitely wasn't the least. Located in Trego and Ness counties in west central Kansas, the Smoky Valley Scenic Byway gave us an additional 60 miles of exploring on highways we'd never visited before.   [[endteaser]]
Starting in Ogallah, right off Interstate 70, we headed south into a brisk wind that kept throwing tumbleweeds our way. Rolling over gentle hills, the byway was bordered with the emerald green fields of recently drilled wheat and the deep red of milo waiting to be harvested. About halfway to Brownell, a large limestone church loomed up from the Kansas countryside. The Swedish Lutheran Emmanuel Church was built in 1902 to serve the Swedish immigrants to this area of Kansas; the church walls stand strong against the Kansas winds more than 110 years later.  
Our next stop was at the Cedar Bluff State Park, home to the Threshing Machine Canyon, a site of a Native American attack on travelers taking a threshing machine to Brigham Young in Salt Lake City.  Here you'll see limestone bluffs along the water's edge, along with plenty of opportunities for wildlife and fossil sighting.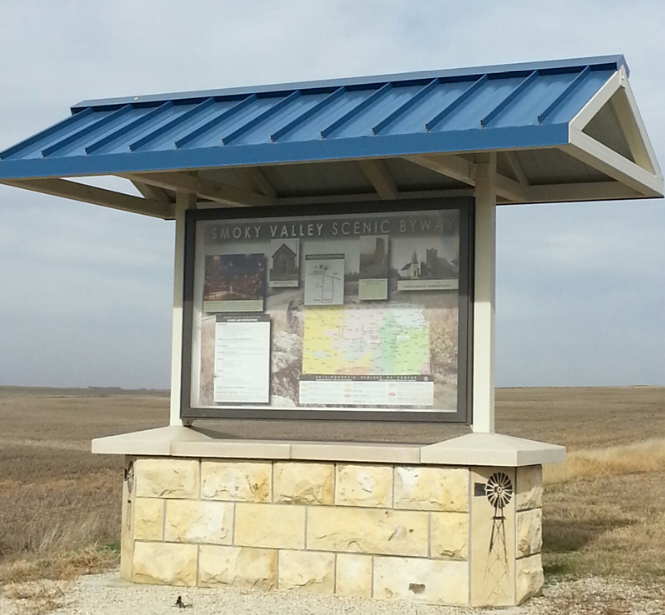 At the town of Brownell, you'll head west toward Ramona, then back north to Wakeeney. Although we missed the markers in all of our gawking at the wide blue skies and Kansas fields as far as we could see, there are two markers indicating where the Butterfield Overland Dispatch crossed this area, carrying mail and freight west in the late 1800's.
Our next photo stop was at the Wilcox School. This one room schoolhouse was erected in 1886 from local quarried limestone from the nearby Smoky Hill River. Used not only for schooling of the Wilcox area children, the building also served it's community members through draft registration, as a voting headquarters and many other community events. It even became the headquarters of the Gravel Grinders Motorcycle Club upon its closure as a school. Within the doorway of the schoolhouse, you can find names carved into the soft limestone from as early as 1901.  
Our final destination along the byway was in Wakeeney, also known as the "Christmas City of the High Plains". Here we found a veteran's cemetery, as well as a deep sense of pride in the area's veterans. Downtown, you'll find several spots to stop and explore, including the "North Pole", located between two limestone buildings. Santa's workshop includes a mural along the south wall and I'm sure has been a memory of Christmas in many young minds over the years.  
This byway was a great ride to get away from the modern world and see the uncommon beauty of fall in Kansas. It's a great ride to unplug, unwind, and explore.  

Sarah Larison lives and works in Holton. When she is not working in quality and risk management, Sarah is an avid reader, amateur gardener and loves to spend time in the kitchen with her chef's assistant, known to most as her daughter "Mini-me". A native of Manhattan, Kansas, Sarah loves to cover miles across the state either in running shoes or on a Harley Davidson Wide Glide with her partner-in-crime, Zeb.  Discovering a beautiful view, a local dining experience or a great road to travel upon is a real joy to this riding team.