Mother Nature continues to amaze us with her timing. There have been some absolutely beautiful days, perfect times for wind therapy on the Wide Glide. Ironically, they have been during the work week when cruising a byway isn't really possible due to those day jobs that we need to keep the lights on.[[endteaser]]
This weekend was no different. Friday dawned clear and gorgeous, the only cloud on the horizon being the weather predictions for Saturday and Sunday and a day of work between us and the open road. Crossing our fingers Saturday morning, we loaded the Wide Glide up on the trailer to venture west toward the Prairie Trail Scenic Byway. Keeping an eye on the skies, we made Lindsborg our base for the weekend. This Swedish settlement marks a midpoint in the 60+ mile byway that stretches from Canton to 14 miles east of Ellsworth. Full of art, Wild Dala horses, and a lot of community pride, Lindsborg was a great town to stroll through. Home to the Ol Stuga Tavern (once featured on Good Morning America) and Small World Gallery (featuring photography by Jim Richardson, contributing photographer for National Geographic), Lindsborg provides guests multiple opportunities for shopping, dining, and exploring.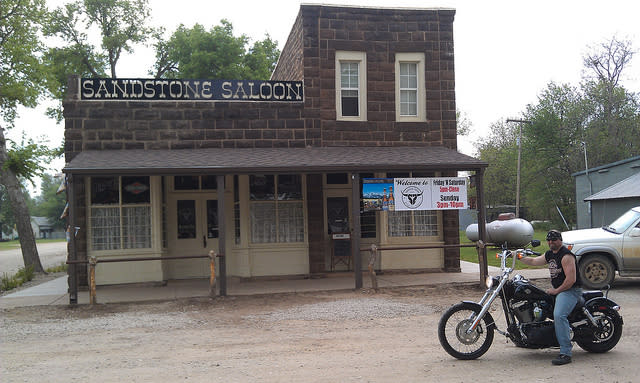 Heading west on Highway 4, the road was filled with bikes heading in both directions. The road stretched smooth and straight in front of us as we headed toward a unique Kansas treasure-the Kansas Motorcycle Museum in Marquette. Our ride down the byway coincided with the Thunder on the Smoky Rally, a day full of biker fun. Biker breakfast, poker run, bike show and games-Marquette rolled out the red carpet for bikers from all over the region. Thunder on the Smoky helps to support the Kansas Motorcycle Museum, which will celebrate its 10th year over Labor Day this year. According to the museum's website:
The Kansas Motorcycle Museum is home to more than 100 vintage and rare motorcycles of all various makes and models. It also has numerous motorcycle racing memorabilia, photos, posters, and much, much more!
The museum was started in 2003 as a local tribute to Marquette's own motorcycle racing legend and FIVE TIME National Racing Champion, "Stan the Man" Engdahl. On display are over 600 trophies Stan won and his legendary Harley Davidson custom-built racing motorcycle he rode during his motorcycle racing career which spanned six decades from the 1940's to the 1990's.
While strolling through the museum, we ran into Jim Oliver, rider and author of "Lucille and the XXX Road". Oliver rode his BMW motorcycle, Lucille, around the world in 60 days.  Oliver was eager to tell his tale of traveling around the world on his bike, including sleeping on it in front of a police station during a rain storm in Russia.  
After admiring the hundreds of bikes lining the streets of Marquette, it was time to head west on Highway 4 and see what else we could find. The land on either side of the highway began to change from tilled farm fields to grassland suited to grazing cattle. At the junction of Highways 4 and 141, we headed north towards Kanopolis Lake. We hoped to stop at Mushroom Rock State Park to see the Dakota sandstone rock formations, but found the only way to get there was on sand roads. A stop at the Dry Dock Tavern just north of Kanopolis Lake for some refreshments was made before finishing out the western half of the Byway.
Upon return to Lindsborg, it was time to head east and south toward Canton. Passing through rich farmland and alongside the Maxwell Wildlife Refuge in McPherson County, the road twisted and turned as we headed south of Roxbury. Upon entering Canton, we immediately noticed the "Hot" and "Cold" water towers along the skyline. Kelly's Bar provided a place to stop for a cold beverage and hot appetizers before we headed back to Lindsborg for the night. The clouds in the western sky had been building all day and our ride back to the hotel for the night had turned fairly gray. The Wide Glide spent the night in the hotel lobby in Lindsborg-somehow I have a feeling that our hotel proprietor didn't get many requests for covered parking that included pulling a bike inside! As the wind howled and rain beat down, we were glad to have outrun Mother Nature for one more day. 

Sarah Larison lives and works in Holton. When she is not working in quality and risk management, Sarah is an avid reader, amateur gardener and loves to spend time in the kitchen with her chef's assistant, known to most as her daughter "Mini-me". A native of Manhattan, Kansas, Sarah loves to cover miles across the state either in running shoes or on a Harley Davidson Wide Glide with her partner-in-crime, Zeb. Discovering a beautiful view, a local dining experience or a great road to travel upon is a real joy to this riding team.