As one travels along Interstate 70 through Kansas, there is a stretch of highway that passes through farm ground fenced in by barbed wire and rock fence posts. These yellow-white fence posts are all fairly uniform in shape and size. To some, they may harken back to another time when rock was used to build barns, homes and fences. To others, they signal the area known as "Post Rock Country". Settled by Bohemians from Europe, this area is rich in limestone, fertile soil and the history of our Kansas ancestry.[[endteaser]]
As you leave the interstate to do some byways riding, you can head north on Highway 232, better known as the Post Rock Scenic Byway. This "natural roller coaster" of a road will take you on a quick trip north to a fork in the road at Highway 18. Go east and you'll head to Lincoln, west will take you to Lucas. Home to 393 folks, Lucas holds the reputation for being the grassroots arts capitol of Kansas. One of the early residents of this tiny Kansas town knew that one day it could be a real tourist stopping point and created a home that would attract thousands of people to it. S.P. Dinsmoor, a folk artist and Populist in the late 18th century, built a limestone and cement home that tells the tale of his view of the world when he was alive. As you wander through his "Garden of Eden", you will see many Masonic symbols, political stories being told, and can even step inside his tomb where he and his first wife are buried. Lucas is also home to the recently constructed "Bowl Plaza", as well as the Deeble home, Lucas Grassroots Arts Center, the Flying Pig Studio, Fork Art and many other pieces of folk art to peruse.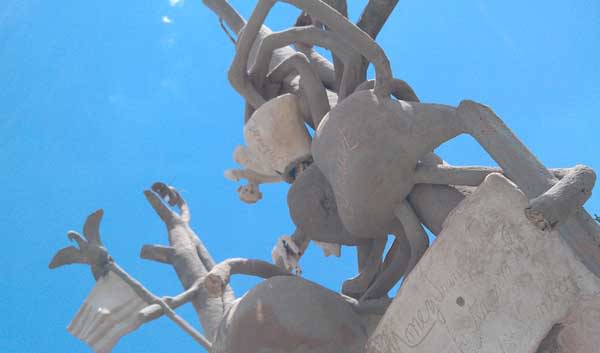 Once you've taken in the sights of Lucas (and there are many), you can stop for a bite of Czech sausage at Brant's Meat Market before heading back out on the Byway. Just eighteen miles down the road at the other end of the Post Rock Scenic Byway, Wilson holds the title of the "Czech Capitol of Kansas". There, we filled our bellies with bierocks and homemade gooseberry pie at "Made From Scratch". As a child, my dad would bring us to Wilson for the Czech festival and I still remember the unique pastries known as kolaches melting in my mouth. Made From Scratch had a case of them to choose from.  It's not every day that I get to enjoy this special treat!

Between Lucas and Wilson is another Kansas treasure. Built in 1964, the Wilson Lake dam stretches across the northern side of the lake. Said to be the cleanest lake in the Kansas, on the beautiful summer day we rode through, the blue waters were home to boaters and people enjoying the blue Kansas skies. We rode around the lake, seeing great places to bike, hike and run the trails as well as spots that would be perfect for a kayaking expedition.

The Post Rock Scenic Byway is a quick trip. However, we will be going back very soon to explore more of this area on foot, in a boat and on the bike once again. The road curves and rises, making it an interesting detour on two wheels from the hustle of life. 

Sarah Larison lives and works in Holton. When she is not working in quality and risk management, Sarah is an avid reader, amateur gardener and loves to spend time in the kitchen with her chef's assistant, known to most as her daughter "Mini-me". A native of Manhattan, Kansas, Sarah loves to cover miles across the state either in running shoes or on a Harley Davidson Wide Glide with her partner-in-crime, Zeb. Discovering a beautiful view, a local dining experience or a great road to travel upon is a real joy to this riding team.