"I can't drive 55!" sang Sammy Hagar in 1984. However, if you're cruising down the Native Stone Scenic Byway in eastern Kansas, it's the perfect speed to take in the sights.[[endteaser]]
Our two-wheeled tour of this scenic byway began a few short miles off I-70, just west of Topeka on K-4 Highway. The byway is saturated with beautiful scenery and Kansas history. Winding down through Mission Creek Valley, K-4 took us to the community of Dover, home of the Somerset Hall Café, made famous when their pies were featured on Good Morning America. This historic business began as a general store in the 1800s and today serves breakfast, lunch, and of course, some terrific pie. My traveling partners and I dug into slices of strawberry rhubarb, mixed berry, coconut cream and apple crumb-just a sampling of what was available. Located just across the road is the 1878 Historic Sage Inn. The Inn has off-street parking and a history that dates back to the late 19th century. It's a picturesque spot to park your bike for the night.
Once we had fueled ourselves with pie and ice cream, the road beckoned once again. Heading west along K-4 to Eskridge, our group encountered plenty of curves and hills to cruise along. Eskridge is the known as the "Gateway to the Flint Hills" and has vast vistas of native grass to take in. Continuing north on K-99, we rode past several ranches, including the Mill Brae Ranch. Miles and miles of pasture land that is unbroken by development gives a traveler an idea of how Kansas once appeared.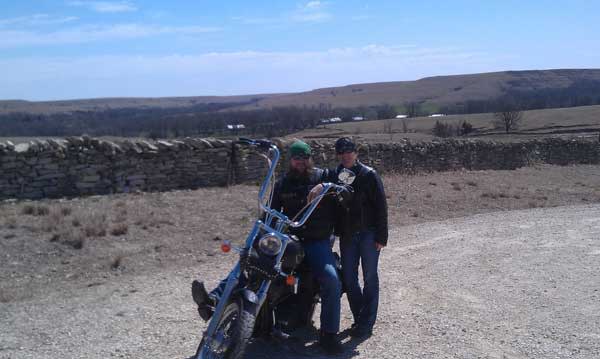 Throughout the ride, we encountered several signs indicating the historic preservation of stone fences. Built by hand from the native limestone abundant to this part of Kansas, these fences stretched for miles. As one of our traveling party commented, "Now we know what ornery kids in the 1800s had to do!" Settlers in this area were paid 40 cents for every rod (16.5 feet) of 4.5 foot stone wall they built, which broke up the once prominent open ranges of the rolling prairie. A scenic overlook west of Alma was a good spot to stop and stretch while getting up close and personal with a length of stone wall.
The final stop on our Native Stone Scenic Byway tour took us to the Alma Creamery. A sample of the creamery's cheeses and locally produced sausages turned into saddle bag treasures to take home with us. The final miles of the byway cruise took us north of Alma to the junction of I-70. This ride is a half day trip full of visual and culinary delights It's easy to get to and fun to cruise.  This trip is one to add to your biking itinerary.

Sarah Larison lives and works in Holton. When she is not working in quality and risk management, Sarah is an avid reader, amateur gardener and loves to spend time in the kitchen with her chef's assistant, known to most as her daughter "Mini-me".  A native of Manhattan, Kansas, Sarah loves to cover miles across the state either in running shoes or on a Harley Davidson Wide Glide with her partner-in-crime, Zeb. Discovering a beautiful view, a local dining experience or a great road to travel upon is a real joy to this riding team.