Stretching from Medicine Lodge to Coldwater, the Gypsum Hills Scenic Byway is a 42 mile journey. I've been fortunate through family trips and professional excursions to travel through a great deal of Kansas counties, up and down the highways and byways. However, this particular stretch of road was one I had yet to encounter. Coming from northeast Kansas, we decided to trailer the bike down. The trick with that is finding a good place to park the truck and trailer while we were out exploring.  The folks at the Wright's Truck Stop in Medicine Lodge are used to having vehicles parked there for long stretches of time and were very accommodating. [[endteaser]]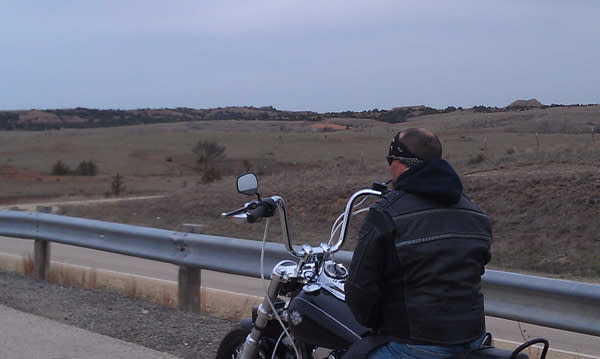 As we drove into Medicine Lodge, we noticed a change in the scenery that most people would tie to being in the state of Oklahoma or a particular type of country music-red dirt. Heading west out of town on the bike, I began to wonder if we were still in Kansas or had somehow transported to another state in the Southwest. Feeling as though we were in a time long gone by, we rode along Hwy 160 through a landscape reminiscent of a western movie set. Oil derricks, deserted farmsteads, cattle guards and 5-strand barbed wire fences dotted the landscape. The road was straight, but desolate with only a handful of populated homes apparent along the 42-mile ride. If you want to clear your head and get away from the hustle of life in a more populated area, this is the ride for you. Your company on the ride will be cattle in the pastures, roadrunners and maybe a snake or two when the weather gets warmer. Be sure to watch out for the tumbleweeds. We quickly found out they get stuck on your boot pretty easily! There are two scenic overlooks within five miles of Medicine Lodge. Both are definitely worth stopping to get the full effect of this rugged countryside. 
When you're ready for a little company that doesn't involve wildlife, you'll find a good stopping point at Coldwater. A town where the choice of headgear appeared to be more cowboy hats than do-rags, we found a warm welcome on a chilly spring day at Dave's Pizza Oven. The hospitality was great to two wind-beaten, leather clad guests, and the food was outstanding. Dave, the owner, delivered our pizza to the table with a smile, after preparing it himself in the open kitchen. A cruise through town took us down a wide main street with brick buildings on each side. On the south end of the downtown area, there was a veteran's memorial park with a long list of names of those that have served in our country's history. Comanche County may only have 1800 people living there, but they have proudly supported our military efforts over the years. 
It was a quick ride from Medicine Lodge to Coldwater, and a long haul to get the bike down there from home. However, it was worth every minute of drive time to get there and see the wildness of the Gypsum Hills countryside. 
Note: If you're looking for more highway time in the Gypsum Hills, multiple people recommended taking the road to Sun City and a stop at Buster's Saloon for a cold beverage and good food. With a scenic winding road, it's a bonus to the scenic Byway ride.

Sarah Larison lives and works in Holton. When she is not working in quality and risk management, Sarah is an avid reader, amateur gardener and loves to spend time in the kitchen with her chef's assistant, known to most as her daughter "Mini-me". A native of Manhattan, Kansas, Sarah loves to cover miles across the state either in running shoes or on a Harley Davidson Wide Glide with her partner-in-crime, Zeb. Discovering a beautiful view, a local dining experience or a great road to travel upon is a real joy to this riding team.