Cassoday, Kansas: known as the "Prairie Chicken Capitol of the World", this Butler County town is home to about 125 souls. From April to October each year, the first Sunday of the month, the town's population explodes as bikers pull in to enjoy the Cassoday Bike Run. Started back in 1991 by a couple of bikers that asked the café owner if she would open up on Sunday morning once in a while for bikers cruising along the Flint Hills Byway (Hwy 177), this monthly event has grown each year. Thousands of bikers show up for food, friends and entertainment each month.  Located at the south end of the Flint Hills Byway, the Cassoday Bike Run is a terrific way to start your day on the Byway. [[endteaser]]
Our group of ten bikes headed out for Cassoday on a chilly Sunday morning, praying for sun at every stop. Coming from our home base in NE Kansas, we decided to get there fast and take the turnpike. The opportunity to stop periodically for warm coffee and to stretch was offered every 35-45 miles. The true gem of taking the turnpike to Cassoday was being able to ride through the Flint Hills, getting a glimpse of what we would be in the middle of later in the day. As the morning went by and the destination became closer, the highway began to fill with groups of bikes headed south.  Pulling into the town of Cassoday, you could see exactly where they were headed. The town was full to the brim with bikes: customs, classic bikes, BMWs, Harleys, Indians and everything in between.  Vendors were lining the street providing opportunities for food, apparel, biker artwork and even farm fresh eggs.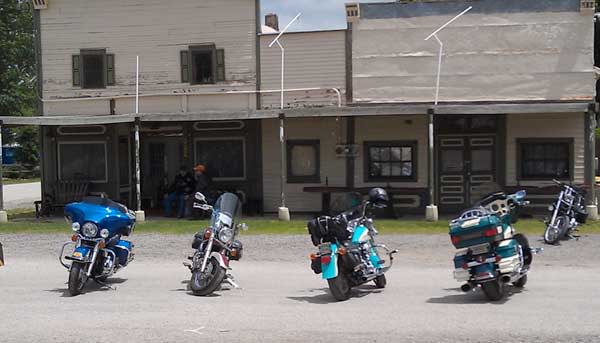 After enjoying breakfast and the finally abundant sunshine, our group headed north at a much slower pace.  The Byway provided a smooth road, twisting at times, with so much to see it was hard to decide where to first look. Skies so blue they almost made your eyes hurt, dotted with puffs of white clouds soared over our heads. Emerald green pastures, courtesy of the much needed rains the area had finally received, were full of cattle grazing on this lush grass. Originally named by the explorer Zebulan Pike in the early 1800s, the Flint Hills are rich with big bluestem grass and wide open spaces. A unique ecosystem, this area is home to a rugged group of Kansans, thousands of head of cattle that are turned out on its grasses each spring and a vast beauty that your eyes must see to believe.  
We stopped at a scenic overlook just south of Cottonwood Falls to drink in the sights. Designed in a circular fashion, low limestone walls gave passers-by a place to sit and soak in the sun. Interpretive signage provided insight into the wildflowers dotting the grasses around us, as well as other facts unique to the Flint Hills. While there, we ran into some new friends. One of them, Steve Williams, was spending the day combining two of his interests-photography and time on his Harley. Steve was gracious enough to share his photography of the Flint Hills and Cassoday Bike Run with us. My little camera just couldn't do the scenery justice. Thanks Steve-hope you'll join us again down the road!  
Coming into Cottonwood Falls, our group split off to do some exploring. The Emma Chase Café and its owner Sue provided up delicious plates of hot Kansas comfort food to half our crew-chicken fried steak, mashed potatoes and green beans with a plethora of pie to choose from for dessert. The historic Chase County Courthouse graces one end of downtown and Main Street is lined with limestone buildings. Art galleries, the historic Jim Bell and Sons clothing store, and the Grand Hotel showed us a town that is open to day-trippers and overnight guests alike. At the other end of Main Street, the falls at the Cottonwood River give travelers a shaded place to stop. A quick jaunt down the highway, across what was once the first interurban connection between Cottonwood Falls and Strong City, took the rest of us to our lunch stop for the day. The Ad Astra Café is a new addition to the Strong City Community. Sitting on their back patio to enjoy the sun, we were served up wonderful food with a big smile. The owner Amanda and her staff provided us with a terrific dining experience from appetizers to dessert. You'll have to make sure to stick around the area long enough for two meals, one in each community!
Heading on out of Strong City, the winding road carried us north towards Council Grove. Vast ranchland and tallgrass prairie surrounded us. One comment shared along our ride that day was "I've never seen so much land with so few fences". Historic ranches line the roads, gates bearing the ranch name and brands. Visitors can stop at the Tallgrass Prairie National Preserve or the stone school house just north of Strong City. Council Grove was one of the last stops along the Santa Fe Trail, and our last stop along the Flint Hills byway for the day. This historic Kansas town offers plenty of opportunities to stop and explore.
At this point in our journey, we've traveled along five of the 11 byways of Kansas. Each has presented us with history lessons, beautiful views, and the opportunity to get some valuable wind therapy time. What a blessing this adventure has been!   

Sarah Larison lives and works in Holton. When she is not working in quality and risk management, Sarah is an avid reader, amateur gardener and loves to spend time in the kitchen with her chef's assistant, known to most as her daughter "Mini-me". A native of Manhattan, Kansas, Sarah loves to cover miles across the state either in running shoes or on a Harley Davidson Wide Glide with her partner-in-crime, Zeb. Discovering a beautiful view, a local dining experience or a great road to travel upon is a real joy to this riding team.