Matt Shook thought his 12-year-old daughter, Kadie, had found the motherlode of morel mushrooms when she started waving excitedly at the Cheney Reservoir, west of Wichita, last week.
Instead, he found the girl standing yards away from one of Kansas' most unmistakable creatures – a North American porcupine.
Shook, an avid bird and big game hunter, said it was only the second time he'd encountered a porcupine in Kansas.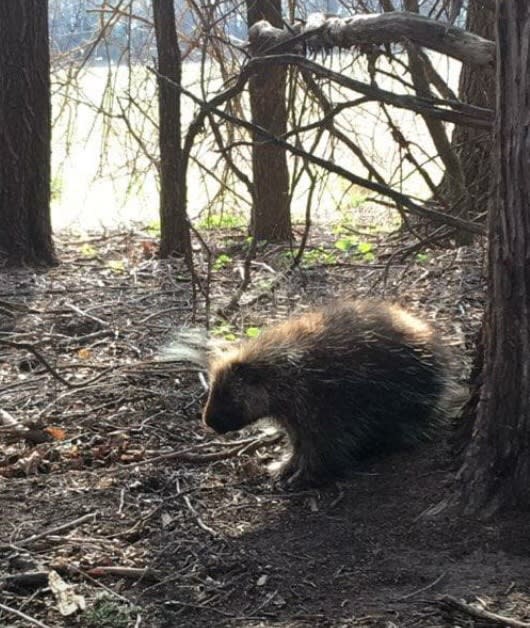 Well, the quilled animals are fairly common in the Red Hills and southwest Kansas. They also show up in other regions. A few years ago porcupines were found in Leavenworth and Jefferson counties in northeast Kansas. Several have been seen along Highway 50 between Newton and Stafford each of the last several years.
Often ranchers and hunters learn they have a porcupine in the area when a calf, horse or dog comes home with a face full of barbed quills. Dogs that try to attack the porcupine often end up with the insides of their mouths thick with quills.
Most animals learn quickly and only get quilled once. But a German shorthair from Coldwater once made the mistake of attacking the same porcupine twice in the same day, and both times had to have dozens of quills removed by the local veterinarian.
Unlike what is shown on cartoons porcupines can't throw their quills, but they can quickly pass a bunch along with a slap of their tail if another animal gets too close.
Kadie's find at Cheney isn't too surprising considering the number of dogs that end up with quills when hunting near the Ninnescah River system, like in the Byron Walker Wildlife Area.
Porcupines are reported annually along the Arkansas River in Wichita and Hutchinson. For five consecutive years a porcupine was often found in a small grove of cottonwood trees north of Pretty Prairie.
Porcupines have been known to live up to 20 years in the wild and generally have only one young per year.
Porcupines in Kansas feed on the same basic things porcupines do in a range that stretches from Mexico well up into Canada and Alaska – soft tree bark, succulent grasses and sometimes crops, like corn.