Kansans can bicker about which species of fish fights hardest or tastes best.
But there's no arguing our prettiest fish is the longear sunfish, especially a male all decked out in its spawning duds.
The oranges on the fish are as vivid as anything stamped "Sunkist." Most are spotted with shades of turquoise seldom seen on wildlife in Kansas.
Longear sunfish are native to clear streams and rivers of eastern Kansas, primarily those of the Arkansas River drainage in the Flint Hills and Chautauqua Hills regions. They've also set up home in quite a few lakes and reservoirs in that area.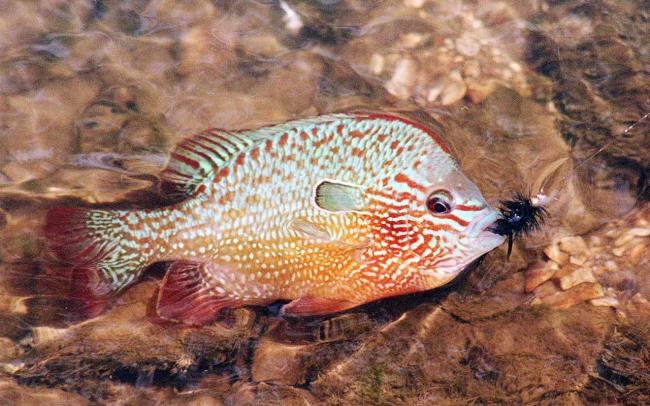 They are often mistakenly called "pumpkinseeds," which are a different species not native to Kansas. Orange-spotted sunfish, which are native to clear waters of Kansas, can be almost as pretty as a good longear.
Though they've been measured to nine inches, it's a rare longear that reaches past six inches so they have little value as a sportfish.
Some anglers like to use them for bait to catch channel or flathead catfish.
Others have taken a few home and placed them in an aquarium, where the colors are even more vivid under florescent lights.