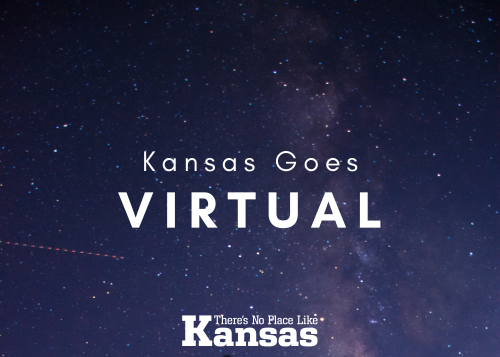 Ad astra per aspera. We're going to have a tough few weeks in Kansas as students finish out their school year remotely and people maintain social distancing. But social distancing doesn't mean that you can't explore together! We've assembled some great Kansas resources for you and your family, from bucket list items you've never had the time for or a little something the entire family can learn.
Virtual STEM Education Resources
Kansas is known as "The Wheat State" and "The Sunflower State," both two beautiful examples of Kansas' agricultural heritage. But agriculture is more than a pretty face, the crops grown here feed millions across the globe! It's also a great, hands-on way to introduce your children to STEM (science, technology, engineering and math) concepts. The Kansas Foundation for Agriculture in the Classroom has assembled a list of virtual resources for you and your child to investigate. Be sure to check out the strawberry DNA extraction lab, a fun way to learn about DNA while using everyday household items (like strawberries and dish soap.)
For your dino-loving kiddos (we know, that's basically all of them) be sure and check out the Sternberg Museum of Natural History's Facebook page! Their experts will be going live twice a day Monday-Friday (at 10 a.m. and 2 p.m.) with their new series called "Dome from Home." Get your natural history fix as their experts discuss topics from prehistoric monsters to modern-day marvels.
If your kids love zoos, be sure and check out the Sedgwick County Zoo Facebook page. Zookeepers will be going live all over the zoo, including animal exhibits, the veterinary hospital and their greenhouses! This is a perfect behind-the-scenes experience for any budding zoologist as you dive into the science behind animals and their care. Don't forget to ask questions while you're watching!
Find a New Hobby Together
You may be maintaining a social distance, but wildlife isn't! Check out the Littlehouse Live Streaming Cameras in Prairie Village! Tom and Liz have created a labor of love with six livestreaming cameras on various feeders throughout their yard. You never know what critters will be around, be we are sure your little ones will love snack time with squirrels or bingo with bird species!
The staff at the Great Plains Nature Center in Wichita are also taking their spring break curriculum online! You can take a virtual hike (and pick up some tips for the real thing), learn about all things outdoors (from fungi to Kansas water) and start to immerse your family in the outdoors so your children can build an appreciation for a lifetime.
The Hutchinson Art Center is hosting the "Isolation Celebration," a virtual group art show open to artists of all ages. Artists are invited to submit two works of art they create during this time of separation. They encourage you to share a little creativity and light when communities need it the most, a great idea to keep in mind as you create and develop your talents.
Have you always wanted to learn how to bake? Why not learn together as a family? Baking is both an art and science while developing life skills such as following directions, hand washing (which is very timely), math (hello fractions), problem-solving, hand-eye coordination and culinary skills. Not to mention kids become more adventurous eaters if they've had a hand in making it! Be sure to check out the Kansas-based Home Baking Association and their age-appropriate kitchen skills list! Talk to your kids about the impact of eating locally (like using Kansas wheat) as you try your hands at bread shaping, making homemade noodles or donuts. (While most big-name flour brands use their fair share of Kansas products, try looking for local favorites like Hudson Cream Flour or Pride of the Prairie Flour.)
Maybe you want to try your hand at photography, but you never seem to get the lighting just right. National Geographic Photographer (and Lindsborg resident) Jim Richardson is one of our nation's premier photographers. He frequently captures Kansas as the subject of his art (and has an extensive collection of photos from the Great Plains spanning the last 40 years.) We highly suggest studying his beautifully shot photos while you start to see Kansas from a new lens. Like Jim always says, "If you want to be a better photographer, stand in front of more interesting stuff." There's plenty of interesting stuff to go around in Kansas, and much of it can be enjoyed even if you are socially distancing yourself.
Virtual Tours
Are you missing the feeling of immersing yourself in a museum? While there's nothing that can replace the feeling of seeing important historical artifacts in person, virtual tours are a great start! The Mahaffie Stagecoach Stop & Farm Virtual Tour brings you close to the action no matter where you may be. View their stagecoach collection straight from the seat, wander their exhibits and saddle up for a good time without ever leaving your couch.
Explore Merriam also has an Interactive History Tour on the Otocast app (available both on the iOS and Android app stores.) You can discover the pivotal moments in the city's history, like the site of the former Walker School. Although it is currently the Philadelphia Baptist Church, this building was one of the hotspots in Kansas for the progression of civil rights. This is an incredible opportunity to start a conversation with your children about the Civil Rights Movement and what it still means to people today while relating it to places and people in your neighborhood. The Merriam Interactive History Tour has information on 12 historic locations ready for your family to discover, even if it's at your kitchen table and you're still in your jammies.
If you love exploring Kansas together but you are still planning on spending most of the next few weeks indoors, our partner KANSAS! Magazine has suspended the cost of single-issue purchases online and has opened our collection of digital copies of KANSAS! for free. We invite you to use these editions as education tools for students, find inspiration for future adventures and become reacquainted (or acquainted) with the beauty of our state.
These next few weeks will show Kansans what they are made of, but it's also an amazing opportunity to come together and support each other, local businesses and organizations across the state. You can see more of how Kansas are coming together in this time of need from our friends at Kansas Responds. To the stars through difficulty.
Looking for more great Kansas Virtual Resources? Be sure to check out our Virtual Center!