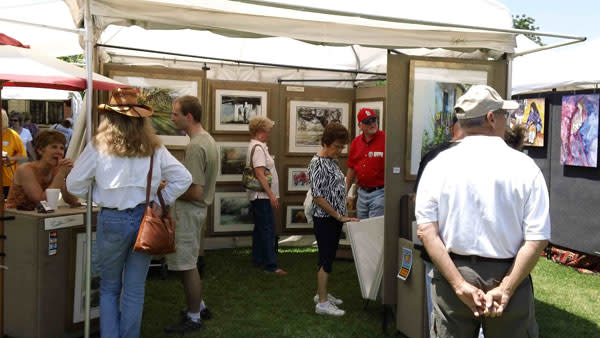 Last weekend my husband, Chris, and I were part of the Kansas Faces & Places "Roadies" crew. We started at the Wichita Riverfest, then traveled to the Smoky Hill River Festival in Salina. [[endteaser]]

As we drove into Wichita on Friday, we noticed something special in the air – the great music and food of Wichita Riverfest, a community tradition for more than 40 years. This long-married couple enjoyed strolling together along the Arkansas River that winds through downtown Wichita. We liked visiting the different booths and watching a variety of events. One of the most popular activities proved to be the Zip-Line, which sailed riders in the air across the river on a wire. Although the lines for the ride were long, event-goers said the experience was well worth the wait.

On Saturday we spent a lazy day at Salina's Smoky Hill River Festival – the event's 35th anniversary and another perfect family outing. We took our lawn chairs and enjoyed a carnival day's worth of food, listened to different types of music, and viewed art and crafts from artists across the country. Young ones had plenty of things to do, too – with crafts, games and plays just for them. The night was complete with entertainment by George Clinton & Parliament Funkadelic. The diverse concert crowd included those who knew of Clinton's legendary presence in the world of funk and those who were hearing him for the first time.

Both festivals added something special to our time of travel and showed us, once again, just how much fun you can have in the great state of Kansas.

Michelle Stubblefield works for jones huyett Partners (jhP) in Topeka and is a lifelong Kansan. As jhP's vice president of new business development, she works with the Kansas Division of Travel & Tourism to promote travel in Kansas. In her free time, Michelle and her family enjoy taking weekend trips across the state.