The magical moment at Joyful Noise Camp came when my son sat jamming with two cellists and a bass player using an instrument made in craft class. He had the beat. They matched him and made spontaneous music together.  Amazing, since he's not a kid who usually has others marching to his drum, but it was the kind of thing welcomed and wanted at this day in the Flint Hills for families to experience music and nature together.
The Flint Hills just calls out for music. There is something intrinsically appealing about actually hearing strings, woodwinds, percussion and brass resonate into the wide open spaces above the Kansas prairie. For the last several years, the Symphony in the Flint Hills has given people an opportunity to experience this. It is amazingly popular, but the long day, with a lot of walking, and a full concert is not exactly kid friendly. Believing that the future of the Flint Hills depends on each generation loving it as much as the last, the people who put together the Symphony in the Flint Hills went about finding a way to give the same amazing experience to families.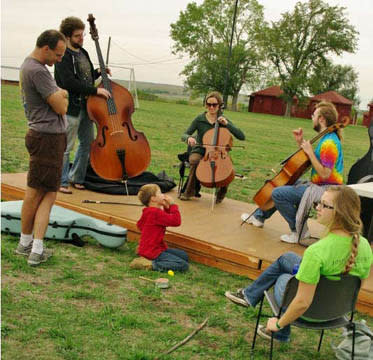 They came up with the Joyful Noise camp. In partnership with the Emporia Symphony and the YMCA's Camp Wood, the group put together a day-long experience that gives kids and their parents or grandparents an opportunity to experience music and nature in an unforgettable way.
The day was full of a variety of sessions on music and nature. There were drawing classes, prairie hikes, and opportunities to be introduced to many forms of music. There was a rap class for kids, a bluegrass jam session for experienced players and a little bit of a variety of nature and music opportunities for people of all ages and abilities. No experience was required, just interest and a willingness to try.
My family participated in an introduction to percussion session, where the kids (reluctant at first) got shakers and learned how to keep a beat. Then my older son and husband went to learn how to rope cattle with a Flint Hills Cowboy, while I took our middle son with me to a woodwinds ensemble group.The style of the camp was a little free-form and informal, which as any parent knows, works well for kids. Whoever showed up became the ensemble and music was made.
My husband and I aren't really musicians, but we like music. He loves classical music, but doesn't play any instrument. I play the flute, but not very well and, these days, not very often. I plunk out tunes on our piano at home to put the kids to sleep at night, and the boys have not yet picked up any lessons themselves.So, really being able to create music together in this way was a unique opportunity.
Personally, it was really fun to have a reason to pick up my instrument and sit down with some people and play in a group again – even if it was just for a one-hour session.
At the end of the day, we all gathered around at the limestone Camp Wood amphitheater that looks out over a beautiful stretch of the Flint Hills. All of the little ensembles from the day's classes got the chance to perform—then the real musicians took the stage.
We stayed as the sun went down for a twilight concert by the Emporia Symphony featuring the special music of Grammy award-winning cellist Eugene Friesen. THAT was COOL, and the best part about it was, not only were my children not reprimanded for being wiggly at a concert. They were welcome and wanted there.
The vast expanses, train in the distance, birds overhead and wide horizon sunset are about as nearly a perfect setting to enjoy this kind of music than I can imagine. The fact that my children were welcome and wanted made this an even better experience.
Freisen, who has been a long-time partner with the Symphony in the Flint Hills and who led the Emporia Symphony in his own family-friendly compositions as a part of this concert, called this day a celebration of music, nature and family.That just about sums it up perfectly.

Karen Ridder is a freelance writer living in Topeka. A former News Producer for KSNW-TV in Wichita, her work can also been seen in print publications including: Topeka Magazine, TK Magazine and the Topeka Capital-Journal. She has written for several national blogs and was recently recognized as one of the 2011 winners in the Annual Kansas Factual Story Contest. Karen has lived in Kansas for 15 years and married a native Wichitan. Together they are raising three little sunflower boys and a dog named George.