I got into birding (that is, watching birds and making lists of species identified) as a conduit for friendship and community after having moved to a brand-new state for a job several years ago. I found that if I showed up at a birding hotspot (see ebird.com for hotspots) or a rare bird's location, I could make instant friends and connections with some of the nicest, most well-traveled, interesting, and intelligent people! For me, there is nothing better on a cold spring morning than birding in a wetland or park, then sharing lists and stories over hot coffee and pastries at the local breakfast joint. It's become tradition for my husband and me!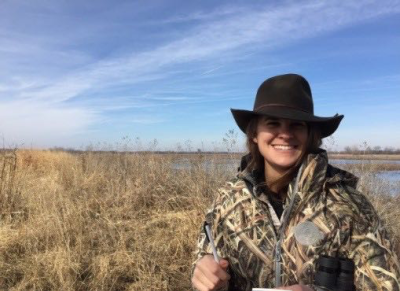 As for what keeps me birding? Studies on mental health suggest having something to always look forward to is paramount to a person's overall happiness. For me, birds fill that role. At any given time I'm looking forward to marking the coming or going of one of Kansas' long distance migrants like purple martins, turkey vultures, or scissor-tailed flycatchers—all of which travel to central or South America for winter and return to Kansas for nesting season. Or hooded mergansers, buffleheads, and snow geese—our winter birds down from their Canadian breeding grounds. I marvel at knowing these little creatures have just flown thousands of miles to my backyard where they'll spend some time raising young in spring or staying comfortable in winter. They've become like old friends.
As we approach March, I'll be keeping an eye to the sky for the first turkey vultures and other harbingers of spring. The thought of which is enough to keep me happy on this otherwise cold and dreary winter day.
Discover more with Laura: 
Instagram @lauramendenhall6 and @kswildlifefed