This is a guest blog post written on June 23 by Andy Brack as he was completing the last leg of a road trip through Kansas with his daughter. A Faces & Places Tour Roadie met the duo as they were eating at Emma Chase Cafe in Cottonwood Falls and loved their story so much, we asked him to share it with you. [[endteaser]]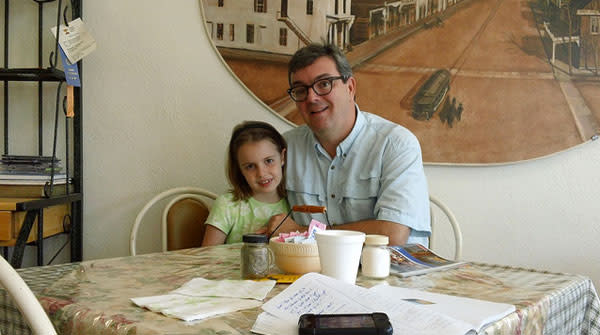 If you think Kansas is a dull desert of a state in the middle of the country, you might want to rethink your world view.

In just five days of traveling from Kansas City through the Flint Hills to the Smoky Valley in the center of the Sunflower State, my 7-year-old daughter and I have become huge fans. You will too.
This year marked the start of our official annual Daddy-Daughter summer trip following a successful shorter test trip last year to Washington, D.C. That's where my father took me when I was seven. I have always remembered that trip and thought our children would benefit from seeing the country when they reached a similar age. Hence, the Daddy-Daughter trip.

But why Kansas? Because it seemed to be about as different from South Carolina as it could be – and by visiting a landlocked place hundreds of miles away, young Avery could learn just how big America is.

Interestingly, there are a lot of similarities. Kansas, like South Carolina, is reliably Republican, as Thomas Frank outlined in his popular 2004 book, What's the matter with Kansas? Kansans are genuinely nice and kind. They are avid hunters and fishermen and appreciate the out-of-doors, as evidenced by many federal and state preserves. And Kansans, it seems, like just about anything fried. (Sound familiar?)

They also worry about storms like we do. But their storms are surprise tornadoes, possibilities of which dominate local news when a mean system is spotted. On Sunday, for example, we witnessed a nasty cloud bank about 50 miles north of Cottonwood Falls. It quickly spawned eight tornadoes, according to news reports. At least with hurricanes, you have three or four days' notice to get out.

As with South Carolina's rural areas, those in Kansas are drying up – but maybe more so. Chase County (776 square miles), which is where travel writer William Least Heat Moon observed the West seems to start, had 300 fewer people in the 2010 Census (2,790 people). Compare that to the 350,209 people in 2010 in Charleston County's 918 square miles. Chase County has one local grocery store and hardly any restaurants open on Sunday night. Students attend school in one community. County commissioners seem to pinch pennies more than anywhere I've ever seen. The tax base is eroding as older people die and high school graduates move away. "It used to take a lot more people," local editor Jerry Schwilling explained, "to run a ranch than it does now" with mechanization and other improvements.

But there are some differences. Kansas is much larger in geographic size – 81,814 square miles – to South Carolina's 30,109 square miles. But Kansas has a smaller in population with 2.9 million people, compared to South Carolina's 4.6 million.

Compared to South Carolina, conservative Kansans also tax citizens more per capita – and it shows in a good system of well-paved roads where potholes are anomalies. Bridges are maintained. Local governments often provide attractive parks, such as a community pool in Lindsborg (3,458 people) that had a huge 153-foot water slide called Thor's Revenge. On average, Kansans pay $3,911 a year per capita in state and local taxes (#19 in the U.S.), compared to $2,742 in South Carolina (#43 in tax burden, according to The Tax Foundation.).

Some other observations:
Wind. Kansas is windy, not only at this time of year when storms seem to sprout daily. According to a study, Kansas ranks second national in the amount of wind energy it has. Through most of the trip, we saw no wind farms, but spotted two of more than 50 turbines each west of Salina. In the future, Kansans likely will tap this resource more.
 
Lavender. One of the stops Avery like best was at Jim Ingwerson's lavender patch outside Topeka. With more than two acres of 2,500 lavender plants, there's enough of the fragrant herb that it's a cottage industry for the retired Ingwerson and his wife. What we learned: Rubbing lavender blooms or leaves on your skin repels mosquitoes. And it grows best in a Mediterranean climate. (So guess who will be growing some bushes next year?)
 
Velvet. The prairie here is truly amazing. Just picture a scene from the old West – brown, dusty land – and then add a layer of green velvet on top of it. That's the prairie. This time of year, the mesmerizing green tallgrass looks like rolling hills of Lowcountry marsh.
 
Pie. It's good in Kansas. Enough said.
 
Favorite place. We've most enjoyed Lindsborg, a village of Swedish immigrants. It seems to be a town in love with itself (in a good way) – quality arts, a small college, some variety in restaurants and a healthy economy. We also enjoyed the quirky Garden of Eden in Lucas, bison in Maxwell Wildlife Refuge north of Canton and the World's Largest Ball of Twine in Cawker City. And, of course, the barbecue in Kansas City.
If you get the chance to visit Kansas, we urge you to take a trip. There's a lot of fun stuff to do. The information on Travel Kansas is a great help. We'll be back.

Andy Brack is publisher of Charleston Currents and Statehouse Report. He can be reached at publisher@charlestoncurrents.com.