The first part of every new year is usually the time that most people hibernate, cuddle up in their homes in front of the fireplace or a good movie, and journey outside as little as possible.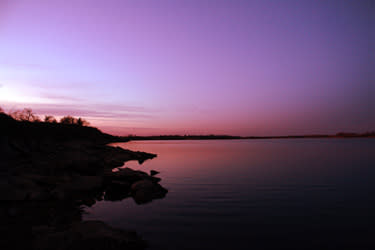 However, for some of the more hardcore fishermen (and women!) in Kansas, when the temperatures drop and the lakes freeze, they begin making preparations for the first ice fishing trip of the season. 
The weather in Kansas can be quite unpredictable at times, never giving the ice anglers a set time or date when they can expect to be on the lakes. Most northern states enjoy ice fishing through much of the winter, while Kansas usually only offers a short window of opportunity for being on the ice. So far this year, we've had unseasonably warm temperatures, nowhere near the ideal conditions that allow ice to start freezing on the lakes.
Most winters, though, as soon as the lakes freeze solid enough the anglers start hitting their favorite spots. From experience, some of the area hot spots look like tiny villages on the ice, especially if the fish are actively biting. While many of the local anglers I know are anxious to catch some heavy-weight stripers, Kansas lakes offer an impressive array of channel cat, wipers, walleye, white bass and perch. When the fish get lively, the cold doesn't even seem to be a factor anymore.
One of the many fun things about ice fishing is watching what kind of equipment shows up on the lakes. The tackle isn't much different than conventional fishing, but most anglers prefer an array of spoons or jigs (usually chartreuse or white). Some dedicated anglers I've met even use "tip-ups" with live minnows or small grubs and maggots.  If anyone is unsure of what or where to fish, ask some of the more experienced anglers already on the lake.  Most are fairly social and willing to provide some hints here and there. It's also amazing what you can learn by simple observation.
While ice fishing can provide some much needed quality family time, it's also a sport where safety is of the utmost importance. Most experts recommend fishing through ice that is at least 4-6" deep. If you're unsure of the depth, drill through the ice as you proceed. Stay away from any open water, honey-combed ice or ice with any snow on it. Wear plenty of clothes to stay warm and don't forget the auger, after all, it is the key to ice fishing!

Elizabeth Peterson is a lifetime resident of Kansas, an avid outdoorswoman, and a new mom. She spends her free time in the great outdoors, hunting and fishing, and writing about her life and passions on her personal blog DeerPassion. You can also find her on Twitter, @DeerPassion.