It seems to be more common to hear about taking kids fishing than taking kids hunting. For some reason many parents aren't letting their kids hunt until they are at least 10 or older. We're lucky to live in Kansas where it's legal to take kids, resident or non-resident, hunting at any age and for any species. I can attest that taking a child hunting is the most rewarding experience you can ask for, and they're not too young to start. 
First, we all begin somewhere, and whether you're a seasoned hunter or not, it's hard to teach a child to hunt. How do you teach a child safety and hunting skills? As a full-time outfitter and father, I'll tell you what I have experienced.  
When my oldest, Colt, was old enough to dirty a diaper he was in the outdoors with me. Seven days after he was born, I was into my first two fully guided clients as a full time Outfitter. Before turning one he had been with me harvesting elk, hogs, geese, and turkey. Colt has always been exposed to hunting, it's the only job I've had since he was born and it's all he knows. It didn't take years to teach him what to do in the fields. However, respecting the harvest, weapons and outdoors will be a continual learning process.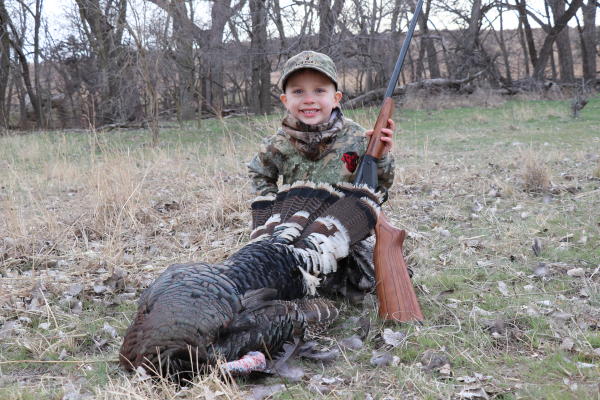 Speaking of turkeys, Colt and I got the chance to go out early this turkey season. We purchased his license, got his favorite snacks, a few drinks and we were off!  
This wasn't Colts first licensed hunt. We tried for turkey in 2017, but we never got a real chance for him to pull the trigger. This year seemed different though. Colt, having turned five over the fall has grown a lot mentally as I'm sure any parent understands.  
On our way to his first hunt of 2018 we were blessed with an opportunity to watch a bold gobbler strutting and gobbling near the road.  
"Colt, do you want to go hunt some of those gobblers over there?" I asked him. 
"Ohhhh yeah Dad! Can I use my 410!?" I couldn't have scripted it any better myself. The kid was ready.  
We weren't going to pursue these birds in particular as that would require good camouflage and a patient seasoned hunter. My plan was to sit in a ground blind and call one into shotgun range for Colt.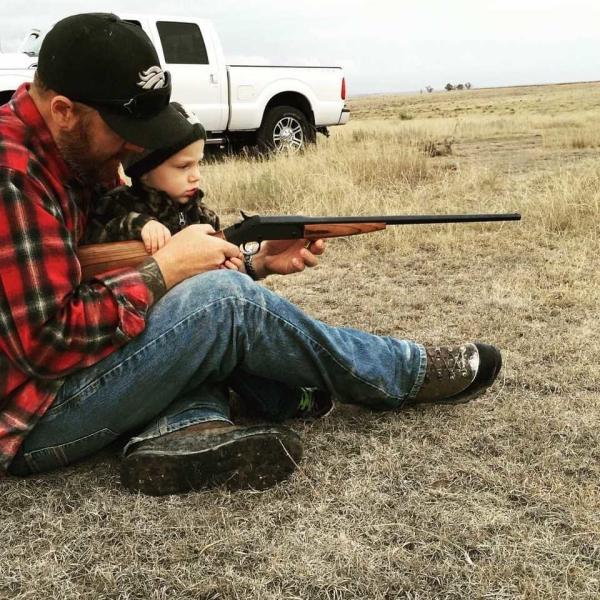 Ground Blinds are affordable and will conceal your child's (and yours) excitement while birds are approaching. In some cases the birds will alarm you and gobble well into tennis racket range before you ever knew they were there.  
We arrived to our hunting area and dropped off our blinds, chairs, Colt's 410 and snacks. After parking the truck, Colt was ready with his over sized gloves on, pants tucked into his boots and an adult Camo hat pushing his little ears down. 
I told him to walk quiet. This was real, we're in hunting season. His face was covered by a camo buff, but I knew he was smiling as he nodded with those big blue eyes.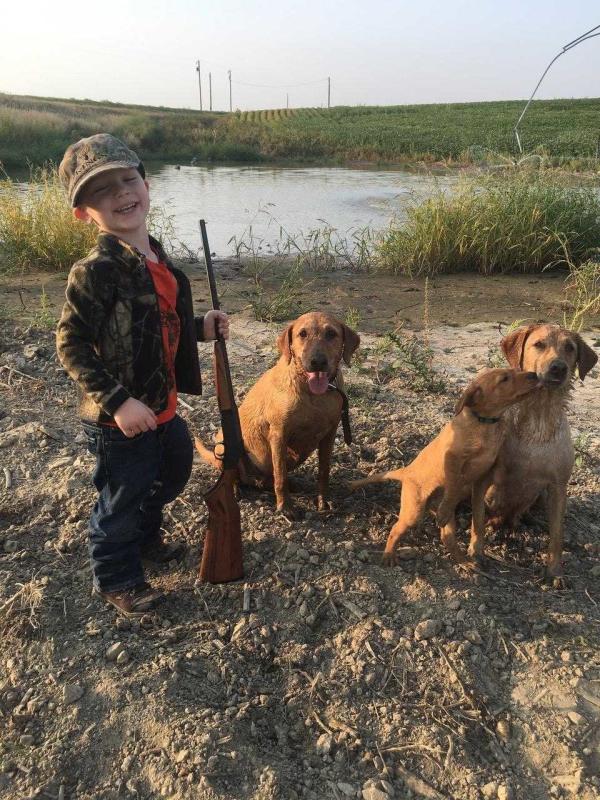 Having been on a few hunts every year, Colt knew to walk and talk quiet. We arrived, setup the blind and decoys and waited to start calling.  
Faster than I'd anticipated I was cutoff by two Toms standing behind us on the hill across the creek.  Their bodies were shining in the sun. We were in the shade, so it was easy for us both to see them. 
As they came down to the trees, we began to see tail fans and hens milling over the ridge behind them. We had quite a parade coming, close to 20 birds. 
The first two birds that came into range were a legal Jake with a hen in tow. This to me was good enough I already had given Colt tons of time to watch the Toms strut, gobble and pace back and forth to woo the ladies.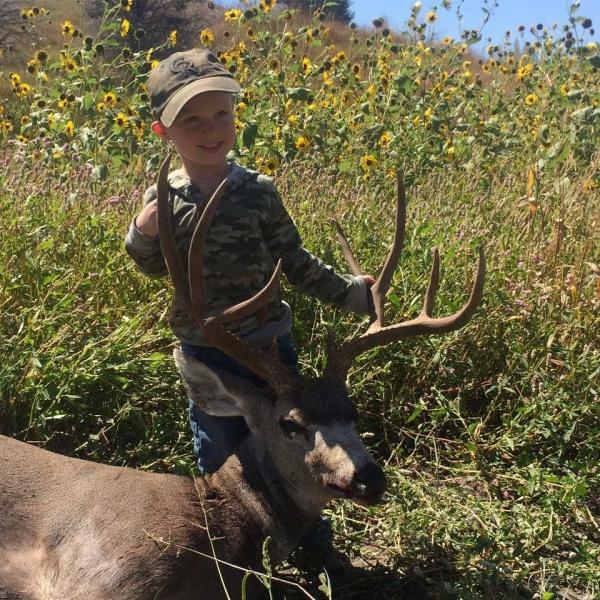 He did what he's been practicing for three years. He put his face down on the butt of his 410 to aim. I told him to squeeze when he felt comfortable. 
"Now?!" Colt screamed in a whisper.  
"Yessss!" I oozed hesitantly while I looked him over and began to brace in anticipation of a gun going off. He shot before I let the S go, and I heard wings beating the ground. 
"I GOT ONE DAD! I'M A HUNTER NOW!" He gleamed. 
I'll surely never forget, as I hope he won't, how he thought he had to get his first animal to be a hunter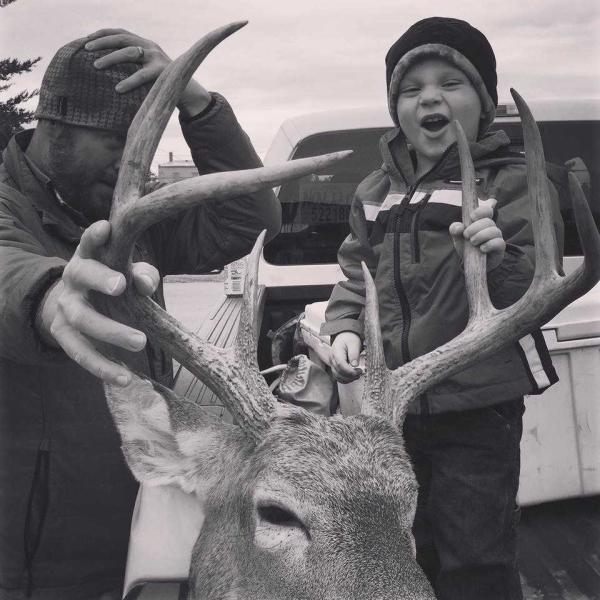 .  
He'd done it, a perfect shot with a measly old 2 3/4" 410 shell. Contrary to what the big box shelves push front and center; its not that hard to harvest a Tom turkey with a clean ethical shot from any shotgun. 
To me the most important things are aim, distance and motion. You want to squeeze off when the bird is looking, because they usually give you a few seconds before bolting. Getting them to look is usually automatic as most of the time they pick up your sound, or motion. However, if they pick up on both don't be afraid to call your child's shot off. Kansas is a target rich environment and early season will allow most hunters a fair handicap at a redo.   
Colt has been shooting this 410 since he was two-years-old. He has exhibited good habits and can recite the laws of gun safety.  While I know that 5-years-old is young to start a kid hunting, I know I'm not the only one that has done it.  
He got his first license when he was four, but we didn't get an opportunity in the time we spent afield. Watching a small whitetail buck and a few does kept him busy though.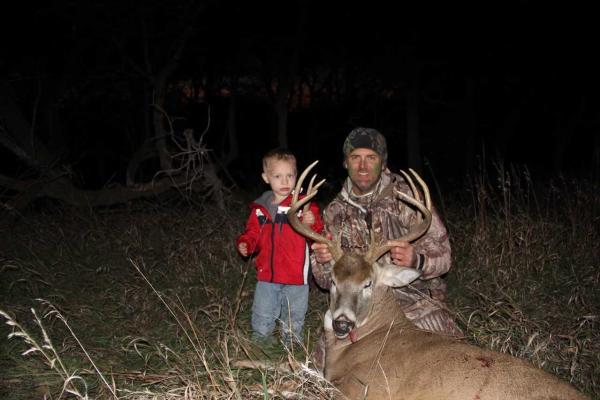 Kansas is a great place to bring your kids hunting, because of there being no age restrictions and there are plenty of outfitters to assist you if you need help or are just wanting to make the most of your time away from the hustle and bustle at home. 
Stay informed on hunting laws. In Kansas, anyone assisting a licensed Hunter must be licensed themselves to be in the field. While adults need a resident, or nonresident hunting license, children under 12 do not. Further, any Child under 12 does not need a hunter safety license. They DO  need a turkey License.  In some portions of the state you're allowed to shoot three turkeys with proper licensing, in the west you're allowed up to two.   
Please double check all laws before going afield, this is advice to the best of my knowledge. The State offers online and printed regulations