Not too far off I-70 in Colby is the Prairie Museum of Art and History. Upon entering the museum we went first to the Kuska Exhibit, which houses the namesakes' personal collection of items including wedding dresses, military apparel, buttons, toys, glass and countless other memorabilia (I dare say everything but the kitchen sink!). At first glance it appears to be similar to any other historical museum I have been to but as I stepped foot into the first aisle, I discovered backlit vintage hodgepodge and before I knew what was happening, six legs were running everywhere and six hands were busy opening and touching this and that.
[[endteaser]]
I recognized the concealed sliding drawers for us museum goers to open and find more goodies under glass and my kids immediately found a drawer with the collection of coins that contained an area to rub giant coins onto paper using crayons. It seemed like I had to pull them away from this activity just to see what else was in store.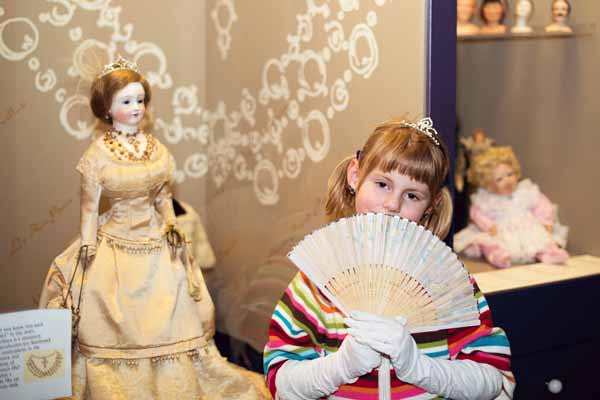 Throughout the museum we found kid-friendly stations that corresponded with the displays. My husband and I got such enjoyment out of watching the kids play, from my daughter dressing up as royalty like the doll she stood by to the little house that had a wall phone and typewriter, puzzles and Kansas education to the ultimate item (drum roll, please).... a grocery store horse. Yes, my kids loved that they could take a mechanical equestrian ride, especially my tech-savvy twelve year old who whipped out his iPhone and played the William Tell Overture through multiple hat waving gallops.
Within the museum walls my children were not just giddy over the animal pelts or excited to try on vintage clothes, but also loved pretending to be the subjects of American Gothic. I tried to take in everything around me from the multitude of displays but since this visit was all about family time, I did more playing than browsing. I did find, however, a Kansas favorite of mine that was on display - a tube of marbles from the Moon Marble Company in the toys without batteries area.
As collectors, it appears that Joe and Nellie Kuska gathered a variety of items and did not focus on just one area of collecting. In fact, as I struggle to limit the size of my blog, I feel I should mention it is worth looking into this museum for yourself to see the vast amount of items this couple took in over their lifetime. I can honestly say it would take a whole page to write about the different categories of collectibles.
The rest of our visit was spent touring the community of buildings that are also part of the museum (and some of which had more dress up clothes!). The 1930's home reminded me of what my own abode may have originally resembled. It lacked today's modern "necessities" but the fun part was the icebox that was available to open and close, the ironing that needed done and a piano and phonograph to be played. In the church, we got to ring the bell and my son gave a sermon. The one room school house was waiting for us with its empty desks, books and chalkboards. The kids loved pretending to play school, even though it was the weekend. The sod house, which is no bigger than a hotel room also had plenty of old fashioned items to not just look at, but actively demonstrate yesteryear with. Finally, the Cooper Barn is also housed within the museum complex. I will write about the barn later in the summer.
This adventure was fun for the whole family and I am hard pressed to pick a favorite this time around. Overall I loved how kid-friendly everything was and the welcoming environment that the staff has obviously worked so hard to achieve. There was real hands-on history at this museum.
I often hear about the long drive across the state of Kansas and think this would be a great place to stretch legs and burn off some energy. Admission is reasonably priced (a mere $22 for our family of five) and a real bargain considering all we got to experience. For complete pricing and hours, visit their website at www.prairiemuseum.org.

Jenni Harrison is a Topeka native and graduate of Washburn University who owns her own business. She stays busy as a leader for a Girl Scout Troop, Cub Scout Den and the never ending duties of being a mom. Besides her high school sweetheart whom she married many years ago and their three children, her other loves include two parrots and the three dogs who surround her at all times while she is working from home.