A Faces & Places Roadie Blog 
On June 8th, bicyclists aged seven to 87 met in Johnson City to travel 522 miles across Kansas. Many came from Kansas; others traveled from as far away as Northern Ireland. Larry Cabeen, Chicago, laughingly claims he came because, "I was told Kansas was flat." Some arrived for the physical challenge, others to connect with friends and family. Riders counted up their trips: For John Bergey of Hesston, this ride marks his ninth.[[endteaser]]
Biking Across Kansas, or "BAK" as it commonly called, began in 1975 with fewer than 100 riders. Since its inception, it has grown "beyond expectations." Now, the tour caps enrollment at 800 cyclists and includes a single route (that changes annually) guiding participants through rural Kansas towns, past landmarks and unique scenery. The riders, "know Kansas as well as any group of people," said BAK chairman David Rohr. "The experience takes a little bit of patience. It encourages exploration; you have to slow yourself down. (Riders) take interest in things you would normally buzz by in a car."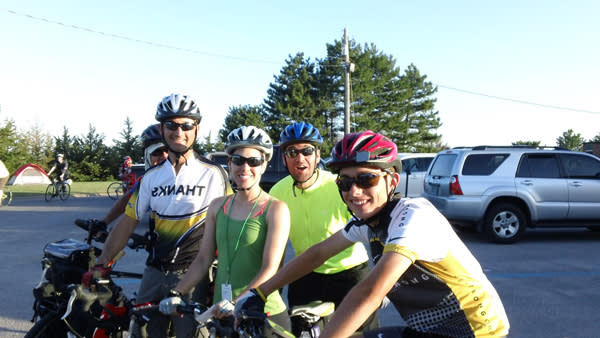 After spending the night in the earth-friendly "silo eco-home" in Greensburg, I met up with riders early Tuesday morning in Coldwater. Following cyclists, I took U.S. highway 160 to Medicine Lodge, through the spectacular Gypsum Hills. As well as I claim to know my home state, I'd never traveled this particular byway. Affected by the spectacular scenery, my son Charlie, age seven, asked me if we were, in fact, still in Kansas. "Mars, maybe," he added, "but not Kansas." I've experienced the powerful expanse of the Flint Hills hundreds of times, and, to me, they feel vast - like the ocean. The Gypsum Hills are somewhat otherworldly. I didn't anticipate the desert-like view of colorful mesas, buttes and canyons. My sons were fascinated by the cactus and the blooming stretches of blanket flower. We were encouraged to be on the lookout for roadrunners, porcupines and armadillos. We loaded the van with interesting rocks - some reddened by iron oxide, others translucent types of gypsum.
Tucked in a valley to the east of the hills, our next stop was Medicine Lodge. The small town is steeped in Kansas history, and widely known for its Indian Peace Treaty Pageant commemorating a pact between the government and Plains Indians. My family and I were greeted by Carry Nation, wielding her hatchet and directing us to visit the Carry Nation Home and Stockade Museum. The museum is packed full of interesting artifacts - including the bathtub from the old jail.
Not to boast, but I think I know Kansas pretty well. I can find my way around, and I feel like I "get" the special nature of my home state. This week while traveling with the cyclists on a small leg of their journey, I met many people who "get" Kansas. They told me they appreciate the state for its "quiet beauty," its diverse landscape, and its warm, welcoming communities. Many of those I talked with weren't from Kansas, but when I told them I live "in a small community north of Topeka," most of them could pinpoint my hometown on a map.

Jessica is a teacher, librarian and mom who lives in Holton. She loves all things summertime: Gardening, lazy days at the lake, farmers' markets, and family vacations. Some of her favorite Kansas places include the Art Lab at Washburn University, the Topeka Shawnee County Public Library, the Konza Prairie and Main Street in Newton. She joined the 2013 Faces & Places Tour because it is an exciting opportunity to explore and write about her home state - and drive a really cool van.