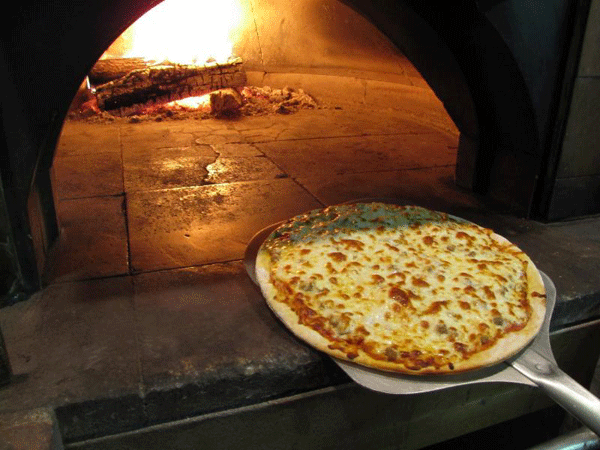 Whether or not it's a game day, the specialty pizzas at Gutch's Bar and Grill are scoring big in Hays. In fact, they have a large fan following as the Gutch's team is well-known for throwing together unique ingredients to create unbeatable wood-fired pizzas baked inside a brick oven right before your eyes.
Choosing which pizza to order was totally my call but I felt like there was a playoff game in my head between the top-selling Bacon Cheeseburger and the other local favorite, the Mona Lisa that consists of sausage, black olives, mushrooms, red onions, green peppers and lots of cheese.  After a coin toss, I finally ordered the Bacon Cheeseburger with its lineup of beef, bacon, onions, tomatoes and cheddar cheese.  Hungry, I quickly tackled my nearly 10-inch wide personal pizza with generous amounts of meat and vegetables on a deep red homemade sauce.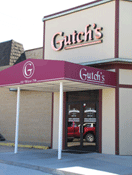 My taste buds cheered the wonderful blend of flavors created by the mix of ingredients, the high temperature of the brick oven that quickly bakes the pizza from both the top and bottom, and the smoke from the Missouri oak wood fueling the fire. The homemade dough scored extra points because when baked the thin crust was lightly crisp on the edge but slightly soft and chewy in the middle, just the way I like it.
Besides pizza, other top menu stars at Gutch's include the 16-ounce ribeye and the Chicken Diable, chicken with red and green peppers, onions and mushrooms sautéed in a spicy alfredo sauce.
Although the game might be on the 10-foot television screen, this is not a typical sports bar.  The décor in this historic building features a charming, rustic Tuscan feel with art of wine bottles and grapes providing a splash of color, metal fixtures supplying light, and heavy, dark wood bar stools and chairs reflecting a sense of Old World simplicity.
Where is your favorite pizza place?

I cooked up the idea of making a career combining my love for writing, eating, and traveling after my sons were born. I grilled my friends living in other parts of the state about their favorite restaurants, and some of those establishments eventually became the topic of my Historic Restaurant series, and later the Tastes column, published in KANSAS! magazine. I simply enjoy the adventure of discovering great food found at unique restaurants, small-town grocery stores, and farm-based processors throughout Kansas, and then sharing what I've learned with you.