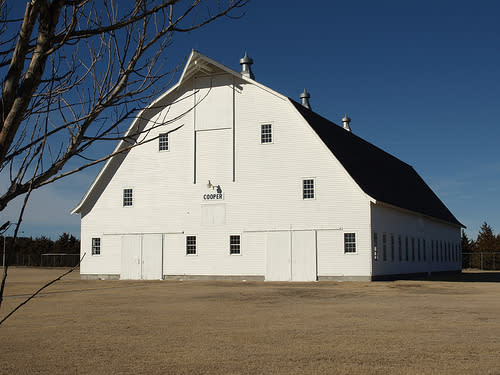 Having been raised on a farm, I wanted to see the largest barn in Kansas to celebrate the state's 150th birthday. This gigantic structure, built of premium lumber in 1936 to house show cattle, is found at the Prairie Museum of Art and History in Colby. But there's way more than meets the eye here; I felt like I was on a treasure hunt around the world!
My first exciting find was a rare French Rocharde doll, one of only five on this Earth. Each bead around her neck features a famous painting seen only through a magnifying glass. Now that's what I consider minuscule! Nearby was a vintage cloth Mickey Mouse with its pointy nose.I marveled at the 18th century Meissen pieces, one of the country's best collections of this famous German porcelain. I later spotted a 2,000-year-old tear vase from the Roman Empire. After filling the glass with their mourning tears, the Romans would bury the vase alongside their deceased loved one. Who would have thought you could find this and a French Louis the XV inlaid desk on the High Plains of Kansas?
But there's more. I spied the Norden Bombsight, a secret weapon used in dropping bombs accurately from aircraft during World War II, and costumes worn by Sam Ramey, the world-famous opera singer who grew up in Colby. Other structures on the museum grounds depict prairie life and include a collection of antique farm equipment. And to think I came to see the largest barn in Kansas, only to discover so much more! What treasure did you find at the Prairie Museum that surprised you?

Cecilia Harris is a professional freelance writer from Abilene who enjoys discovering fascinating attractions, events and people that reflect the arts, culture and heritage found in Kansas. She has been a longtime regular contributor to KANSAS! magazine and also has written for such publications as Midwest Living, Sunflower Living, Kansas Heritage and The Greyhound Review to inspire others to explore and appreciate her home state. She also has authored two books, "Historic Homes of Abilene" and "Abilene's Carousel."