As I pull up to the Emporia Country Club, music is pumping, discs are flying and the baskets are ringing. There are no golf clubs in sight, no silent sighs among the crowd nor anyone shouting, "fore!"
Instead the spectators are excited, cheering loud for their favorite players and following amateur master foursomes around the green landscape on this warm July day.[[endteaser]]
I have arrived at the 2013 Pro Disc Golf Amateur World Championships in Emporia, sponsored by Dynamic Discs. 
Players, young and old, gather in their divisions and will spend the weekend throwing round after round for a world championship to call their own.
After getting my bearings, I begin following a foursome from the Advanced Senior Grandmasters division, which includes Jim Branbury from Charlotte, North Carolina (who will eventually finish first in his division), among others. A few fellow spectators and players from the area follow along as they snap their discs into the air.
Here I meet Alex Lambert. At only 16, she has already finished her rounds and is humbly excited to be named the world championship for girls 16 and under. She, and her proud father, give a shout out to the Charlotte women's club, with whom she practices. I am not surprised when she tells me she's been playing since she was in elementary school.
I begin to understand that today's amateurs are representing cities and clubs from around the country. They are members of the PDGA and many are passionate about the sport.
A leaderboard continues to direct the foursomes through Emporia's hilly landscape. 
The 18-hole course looks and feels just like the regular golf course except for its subtle transformations. The tee boxes host a sometimes-graceful (sometimes not) wind up and launch by players, and putting occurs about midway through the regulation golf hole to a "green" featuring a disc golf basket.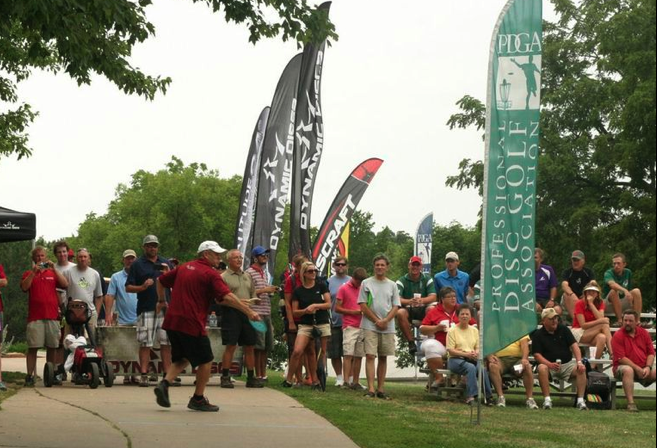 Choosing from their putters and other discs, players consult their caddies and they all finish strong. Much like regular golf, disc golf follows a course, keeps score, has pars and players who have excelled in the sport (which is evident today).
Discs fly, they are hammered to the ground, bending curves, bouncing off of trees and so on.
I meet Candy Roque who is sporting a Team Florida shirt and following fellow Floridian Michael Schweitzer (who finished second in the Advanced Senior Grandmasters division-the over 60 crowd). Roque tells me how much fun she's had in Kansas and enjoyed the tournament (she finished third in the Advanced Masters Women division). She adds that the championships are just a fun time to see familiar faces and test your skills.
Play continues throughout the day as tournament organizers begin to set up the awards near the 18th hole. On the last hole which many would make or break their tournament appearance-the tee is a small island surrounded by water and hidden by trees (Emporia Country Club is ruthless). Nevertheless, the gold disc golf baskets wait.
Katy Ibsen is a writer and editor living in Lawrence. When she's not blogging, writing or serving her community, she's embarking on the outdoor life among Kansas' picturesque landscape.