Our trip to Chanute on a recent Saturday afternoon included a snowy scenic drive along K-39. As we drove over a bridge into the downtown area, the sight of the snow-frosted roofs of the historic buildings (including the old Santa Fe train depot) reminded me of a Christmas card. The community has created a welcoming setting for visitors-charming storefronts, restored historic buildings, and a friendly atmosphere that includes music playing from speakers mounted on light posts. [[endteaser]]
One of the grandest sights is the Tioga Suites Hotel, a high-rise listed in the National Register of Historic Places. Adjoining the hotel is Giovanni's, a quaint eatery opened in August 2012. We stepped off the snowy sidewalk and out of the bitterly cold winds into the warmth of this restaurant, appointed with pressed tin ceilings, original crown molding, exposed brick and stone walls, and rough hewn wood floors. I immediately noticed several flags hanging from the ceiling. We learned that each flag represents the 14 different countries in which owner/head chef Michael Said-Borini has lived for at least a year.
Despite Said-Borini's Lebanese-Italian ethnicity and globetrotter status, the menu at Giovanni's includes a lot of standard American comfort food fare. "You have to cook for your audience, change your recipes." he said.
Our family started with hummus with homemade chips and fried mozzarella sticks with marinara sauce. The hummus was very subtle, creamy and smooth. Hubby loved the freshly fried chips served on the side. Our son said the mozzarella sticks were even better than the ones at his favorite national drive-in chain (that's quite a compliment!).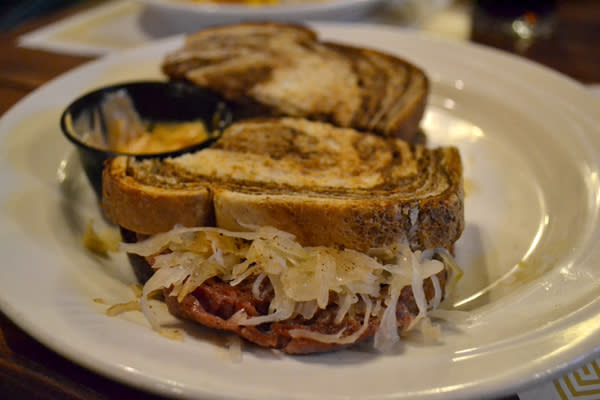 My dad said the two large meatballs atop his spaghetti were "absolutely perfect," very dense and well-seasoned. Mom's chicken fried steak and mashed potatoes with gravy were a more-than-generous portion. And yes, the potatoes are made from scratch, just like everything on the menu. Hubby enjoyed a Giovanni Burger-a hamburger with your choice of three toppings; he chose American cheese, sauteed onions and bacon. He particularly enjoyed the hand-cut french fries that were served alongside. I am always in search of the perfect Reuben, so when I saw it on the menu, I had to give it a try. It was delicious-just-right proportions of juicy corned beef, creamy Swiss cheese, tangy sauerkraut and thousand island between two slices of toasted marble rye. I stole some of my son's ribbon fries (thinly-sliced curls of potatoes fried to crunchy potato chip perfection) and found they were the perfect complement to my sandwich. He didn't mind sharing, as the chips covered more than half his plate.
We don't normally order appetizers, entrees, AND dessert, but we're willing to make sacrifices for the sake of the blog readers;). We shared a slice of the coconut custard pie and praline pie, homemade by a local baker. These sweet bites were the perfect end to a satisfying meal.
With all his worldly experience, I asked Chef Michael why he chose to settle in Kansas. He grinned and paused a moment. "What else cause man to travel?" he said in his thick accent. A romance with a woman from his law enforcement past (he was once a deputy sheriff in the Boston area) was what drew him to the Midwest. The chef's story of his careers (including a stint with celebrity chef Robert Irvine, who had emailed him just prior to our visit) is a compelling one and I regret I don't have the space to share it here.
If you're in Chanute, our family recommends Giovanni's or the Ambassador Steakhouse, Said-Borini's other eatery, also in the Tioga Suites. While in town, allow plenty of time to visit the Martin and Osa Johnson Safari Museum in the restored Santa Fe depot. This attraction, listed among the 8 Wonders of Kansas People, tells the story of a native Kansas couple who used film to document their exploration of the Congo, Borneo, and the South Seas.
As I mentioned, the Reuben is my must-try dish, and I found Giovanni's to be a delight. If you're a fan of this deli treat, I'd love to hear your recommendation for who serves the best! 
My tips and picks for Giovanni's:
grab a booth by the window and enjoy Chanute's historic downtown charm
order the Reuben with a side of ribbon fries and praline pie for dessert

Teresa Jenkins is all business during the week, but on the weekends, she, her husband and 11-year old son enjoy loading up the car and hitting the Kansas byways in search of good food and the great people who prepare and serve it. Her favorite cuisines are Mexican, Italian, and "anything with flavor!"