I'm not much of a gambler, but my friends who love to visit casinos want Hubby and me to come along. While the others wager their money on blackjack or poker, I'll try my luck at the slot machines and bingo for a while. And when I am ready for a break [[endteaser]] from the action, it's a sure bet I will find things to occupy my time while the others continue playing. I've staked out a few activities inside or near Kansas casinos that are big winners when it comes to alternative entertainment:[[endteaser]]

· Boot Hill Casino and Resort, Dodge City. I'll take a short walk to the adjacent United Wireless Arena where this time of year I might watch some great basketball or championship bull riding, laugh to the jokes of a professional comedian, or tap my toes to music at a concert.
· Prairie Band Casino and Resort, Mayetta. Maybe I'll beat the odds and be one of the lucky ones to listen to a big name music entertainer in the Great Lakes Ballroom where past concerts have included Montgomery Gentry, the Beach Boys, and Ray Price. Comedian Bill Engvall also has appeared here. While most seats at the monthly events are reserved as a reward for players, a limited number of tickets are available to the general public. If the weather is warm, I'll take my clubs and play the nearby Firekeeper Golf Course.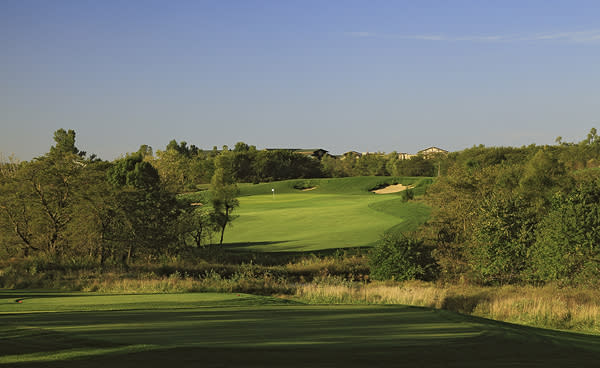 · Hollywood Casino at Kansas Speedway, Kansas City. Listening to local and regional musicians perform while sipping a beer at the Turn 2 Sports Bar and Restaurant on Friday night sounds like a winning combination to me!
· Sac and Fox Casino, Powhattan. With golf clubs in hand, I'm game to try the casino's driving range where high intensity lighting allows nighttime action.
· 7th Street Casino, downtown Kansas City. On Motown Monday, I'll explore the three floors of this historic building as rhythm and blues, soul, and pop music is played by a animated disc jockey. 
· Casino White Cloud, White Cloud. Reserving a cabin tucked away in the rolling hills of the Iowa Tribe Reservation, I'll retreat to the peace and quiet of the rural setting after I celebrate hitting the jackpot (hopefully!). Or maybe I'll schedule our trip to the casino around the tribe's annual powwow, rodeo or demolition derby. 

· Golden Eagle Casino, Horton. While this casino rolls the dice on whether to continue concerts offered in past years (featuring performances by such stars as Bret Michaels and Charlie Daniels), I'll wager on the buffet at the casino restaurant where the fare includes crab legs, catfish, and t-bone steak.
· Kansas Star Casino, Mulvane. Recently relocated to its brand new facility, the casino's previous location is being remodeled into a multi-purpose events center and plans are for concerts, sporting events, trade shows and equestrian activities. I'll be watching the website to see what's coming this summer.
What do you like to do when you take a break from the gaming action at the casino?
Cecilia Harris is a professional freelance writer from Abilene who enjoys discovering fascinating attractions, events and people that reflect the arts, culture and heritage found in Kansas. She has been a longtime regular contributor to KANSAS! magazine and also has written for such publications as Midwest Living, Sunflower Living, Kansas Heritage and The Greyhound Review to inspire others to explore and appreciate her home state. She also has authored two books, "Historic Homes of Abilene" and "Abilene's Carousel."