There are so many interesting places to visit along the Frontier Military Scenic Byway, you really need to plan a few days to catch it all. The byway takes you along the border area between Kansas and Missouri. It roughly follows the old military road originally built to link Fort Leavenworth and Fort Scott with military installations further to the south. The area was a hotbed of activity during the Bleeding Kansas fight for statehood. Along the route you will find the site of the Marais des Cygnes massacre, a brutal attack that galvanized guerilla warfare between free-state and pro-slavery forces in territorial Kansas. Nearby Mine Creek Battlefield is the site of the only major Civil War battle fought in Kansas. This scenic byway is not all about the military though. You will find a Santa Fe Trail stop, a stately historic home, several parks and a cider mill. The drive is through a beautiful part of the state with lots of hills and trees as you head south out of Kansas City. It takes you past so many interesting stops you will surely find something to please everyone in the family.
Our recent trip to the Frontier Military Scenic Byway focused on the John Brown Museum and the Louisburg Cider Mill, two sites we had never visited before.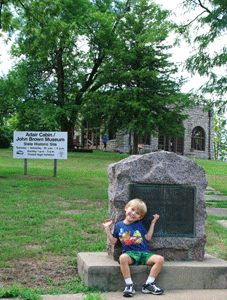 The John Brown Museum State Historic Site is in Osawatomie. Inside this free museum you will find the Adair Cabin. It was the home of John Brown's half sister, and where he set up headquarters of his free state fight here in Kansas. The Adairs were peaceful people. While they shared John Brown's anti slavery views, they did not share his violent ways. The cabin is inside a stone building constructed to protect it from deterioration. The curator who greeted us and gave us a tour was very friendly and knew a TON about John Brown and the Bleeding Kansas period. I know because I asked a TON of questions. The boys were able to climb the stairs to look into a loft that John Brown actually built himself for Mrs. Adair and the Adair children. It is a small site and does not take long to visit, but it is very well done and in a nice big park. Osawatomie also has a driving tour of other historic points in the town you can enjoy while you're there.
The Louisburg Cider Mill was also a lot of fun. We hit it at an off time, the apple presses weren't running, but they were still doing a brisk business in their unique country store. The kids enjoyed watching them make the apple donuts, which of course we had to buy to go with our apple cider. The Cider Mill also makes and bottles the Lost Trail root beer and soda line. While the big corn maze, pumpkin patch and Ciderfest take place in the Fall, the mill hosts special events all year round. We will definitely be going back there.

Have you ever traveled the Frontier Military Byway? If so, what was your favorite stop?

Karen Ridder is a freelance writer living in Topeka. A former News Producer for KSNW-TV in Wichita, her work can also been seen in print publications including: Topeka Magazine, TK Magazine and the Topeka Capital-Journal. She has written for several national blogs and was recently recognized as one of the 2011 winners in the Annual Kansas Factual Story Contest. Karen has lived in Kansas for 15 years and married a native Wichitan. Together they are raising two little sunflower boys and a dog named George.