I've long admired the work of Gordon Parks, who was once told not to try to attend college because his best shot at succeeding in life was to be a porter in a nice hotel. Fortunately for us, the Fort Scott native didn't listen to his teacher and became the first African American photographer on the Life magazine staff and the first major African American director in Hollywood, producing such films as The Learning Tree and Shaft. More importantly, I learned at the annual Gordon Parks Celebration of Culture and Diversity  that Parks said he used his art "as a weapon against all things I dislike about America—poverty, racism and discrimination.
"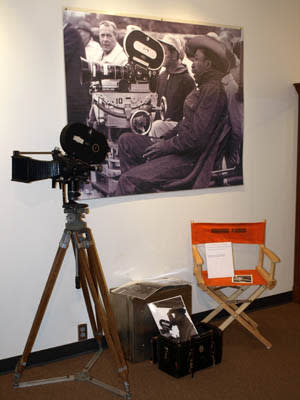 Held at the Gordon Parks Museum in the Fine Arts Center at Fort Scott Community College, this year's annual celebration marked the 100th anniversary of Parks' birth on November 30, 1912, in Fort Scott. You will recognize this creative man's work: his autobiographical novel The Learning Tree; the film Shaft, featuring a hero who was hip and black (the terminology of the time); the ballet Martin based on the life of Dr. Martin Luther King, Jr.; and that famous photograph American Gothic, Washington, D.C., depicting a poor, black cleaning woman posing with a broom and mop in hand with the United States flag as a backdrop. Be sure to take time to tour the Gordon Parks Museum where you can view some of his photographs and personal effects.
In its ninth year, the event that offers programs on cultural awareness and promotes artistic creativity is well worth a trip to Fort Scott. The small venue allows conversation with speakers who I would not have the opportunity to meet otherwise. One woman told me at past celebrations she had the pleasure of mingling with Ernest Green of the Little Rock Nine and actor Richard Roundtree.
As a lover of history, I thoroughly enjoyed the first lecture, Shared Stories of the Civil War, which gave a fascinating picture—through the actual words of those who were there—of the first battle fought by the First Kansas Colored Volunteer Infantry organized at Fort Scott. Be sure to tour the Fort Scott National Historic Site, which is free, while you are here.
Barbara Baker Burrows, a longtime editor for Life magazine, offered a snapshot into the world of magazine photography. She worked closely with Parks whom she said exhibited all the traits of a good photographer including compassion, integrity, respect and the ability to get his subjects to trust him. I learned more about Parks' character from the stories Burrows shared, and as an amateur photographer I appreciated her advice on creating outstanding pictures. Burrows was honored at the Celebration Tribute Dinner as this year's recipient of the Gordon Parks Choice of Weapons Award.
Filmmaker Kevin Willmott, a Junction City native and now a professor at the University of Kansas, shared clips from a couple of his movies. Willmott said his own life was influenced in many ways by Parks' works, including his pursuit of a career in the film industry. I look forward to seeing the rest of Willmott's film, The Only Good Indian, which tells the story of boarding schools where Native Americans were forced to leave their traditions behind and accept the American way of life.
The Parks Celebration includes a poetry and essay contest for high school students and a kids' creativity workshop as well as other activities, so plan to spend the weekend. Take the trolley tour of the city with its beautiful Victorian homes and interesting history, giving insight into the world of Parks' childhood.Is there a famous Kansan from your community?
Cecilia Harris is a professional freelance writer from Abilene who enjoys discovering fascinating attractions, events and people that reflect the arts, culture and heritage found in Kansas. She has been a longtime regular contributor to KANSAS! magazine and also has written for such publications as Midwest Living, Sunflower Living, Kansas Heritage and The Greyhound Review to inspire others to explore and appreciate her home state. She also has authored two books, "Historic Homes of Abilene" and "Abilene's Carousel."