Each December, Fort Scott National Historic Site provides visitors a unique opportunity to experience history. They turn off all of the modern lights, cover up the interpretive displays, line the paths with hundreds of candles and invite you on a guided tour back through time.
These candlelight tours are really more like a walk-through play than a "tour." Visitors are expected to act like "ghosts," simply observing the lives of people dealing with issues that were important in the past history of the fort. The only lights are lanterns and candles. You are asked to refrain from flash photography and turn off your cell phone. It sets and atmosphere that makes for a really distinctive experience.
When our family visited this year, we were treated to a story that walked us through the 150th anniversary of statehood and the start of the Civil War. Re-enactors in several scenes portrayed the emotions and conflicts of Kansans dealing with new statehood while the rest of the country faced secession and war. A narrator served as a sort of "ghost of Christmas past" between each scene, explaining to our tour group historical events contributing to the actions of the players.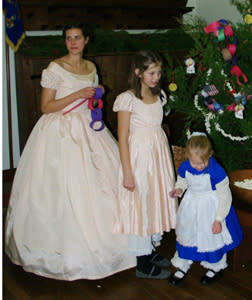 We visited the livery stable where a Missouri ruffian made the mistake of expressing his secessionist views and was told to leave town by morning. We saw a group of women working on a battle flag for the local boys and practicing their "good luck" speeches of encouragement. We took part in a recruitment meeting for the local militia, walked into a bar where some soldiers just back from "Jayhawking" across the Missouri border were chastised for drinking, and observed the dinner conversation of some ladies discussing the recent war movements and the involvement of people they knew in the action.
This event is really well done. Walking though the candlelit fort is a beautiful experience. The actors did an excellent job of portraying the emotion and challenges of the time. Since visitors were "seen and not heard" the atmosphere actually made me feel a little bit like I was stepping back in time to experience conversations that might have been taking place in 1861. It was fun.
One of the neat things about these tours is that they are different every year. This year's scenes were the first in a five year chronological series on Civil War events. The next few years will follow each year of the Civil War until its conclusion. So, if you've been before, you have a good excuse to go again.
At the end of the tour, everyone was invited to an old fashioned Christmas celebration with hot apple cider, cookies, tree decorating and live music. The boys really enjoyed this part of the event. I would recommend this trip for families with older kids (Our 6-year-old loved it. It was a bit over our 3 –year-old's head), anyone who likes history or just wants to try something different. The tour takes about an hour. It is a good idea to get tickets in advance because this popular event is often a sell-out -which is no surprise, because the candlelight tours are a really great way to experience Fort Scott.

Karen Ridder is a freelance writer living in Topeka. A former News Producer for KSNW-TV in Wichita, her work can also been seen in print publications including: Topeka Magazine, TK Magazine and the Topeka Capital-Journal. She has written for several national blogs and was recently recognized as one of the 2011 winners in the Annual Kansas Factual Story Contest. Karen has lived in Kansas for 15 years and married a native Wichitan. Together they are raising two little sunflower boys and a dog named George.