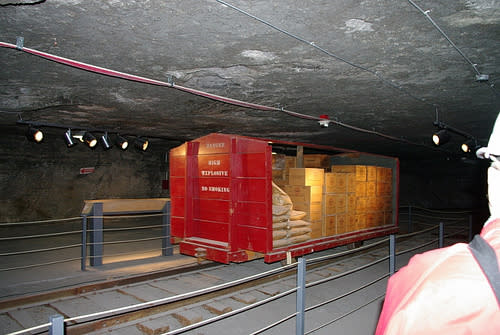 I didn't quite know what to expect when I took my trip "down under" at the Kansas Underground Salt Museum in Hutchinson. My husband, older son and I eagerly anticipated our recent visit just for the novelty of being inside a mine, and the fact that it is the only museum of its kind in the Western Hemisphere. We appreciate unique experiences.
Since I generally do not like caves and enclosed spaces, I will admit I was a little nervous. To me, the word "mine" conjures up word-associations like dark, cramped and scary. Here's what I learned about that and other realities of mining:
1.A mine does not have to be claustrophobic: As I said, the idea of being 650 feet underground, knowing the only way out was a thin shaft up to daylight, was a little unnerving. That was before I did it. When the first room you enter is as large as a football field with soaring ceilings and bright lights, there was virtually no feeling of enclosure. It is a really cool experience to be standing in the middle of what was essentially the remnant of a pre-historic ocean.

2.What goes down does not come back up: With the exception of people, the rule for the Carey Salt Company when this section of the mine was active was that things going down do not return to the top. On the train ride, you get to see a spot that was a trash dump from the 1950s and an area miners obviously used to "deposit" other kinds of waste. Sort of gross, but in an educational kind of way.
3.Salt Corrodes: I know you are thinking this is a no-brainer. Even so, it was strange to see the way the salt miners have to fight rust and corrosion on their vehicles and equipment. Since the salt in this mine is primarily used to keep roads safe in icy weather, it is also a good reminder to make a trip to the car wash after each snow storm. They take down each vehicle using the same elevator they use for people. Large equipment is disassembled top side and reassembled bottom side. Then, they are used and re-used until rust makes them relics.
4.Toto is actually still in Kansas: Well, at least original copies of the movie and a lot of other cool movie memorabilia. A portion of the museum explains what the Underground Vaults & Storage Company does and why these mines have been deemed a perfect place to hold the relics from Hollywood's greatest hits, as well as everything from cold war documents to medical records.
5.Black is black: So, there was SOME darkness. What do you expect? You are going 650 feet underground. In order to give visitors a feeling of what a miner experiences, there are no lights in the elevator. That means you are in that kind of pitch-black-can't-see-my-hand-in-front-of-my-face darkness at the beginning of the trip. If this freaks you out, rest assured, it does not last long. There is also a "Dark Ride" you can take while you are underground. This tram trip gives you an idea of what it is like to be in the darkness of the mine. On the tour you also get to pick out your own chunk of salt to take home.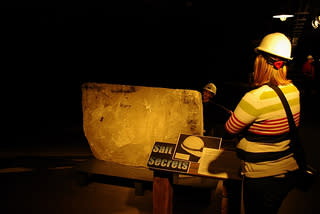 As long as your kids are over four years old (the minimum age for entering the mine), this is a GREAT kid stop. It is wide open, there is a train AND a tram ride and in places you are invited to touch the salt, although licking is discouraged (usually a wise choice at a museum anyway).
The reason visitors have to be four years old is that everyone in the mine must wear a hardhat and a little lifesaver "rescuer" device over the shoulder to aid with breathing if there's a fire. So, even if your child is four, you might want to judge if you think they would actually agree to the hard hat and rescuer. That's why we left our younger child at Grandma's – good choice.
For the sheer novelty and awe factor, the Kansas Underground Salt Museum in Hutchinson is a must-see on your travels through Kansas. Of course the amazing Kansas Cosmosphere is close-by too. So, it is worth making time for both on your agenda if you can spare it.If you've been to the Salt Museum, what did you think of it?



Karen Ridder is a freelance writer living in Topeka. A former News Producer for KSNW-TV in Wichita, her work can also been seen in print publications including: Topeka Magazine, TK Magazine and the Topeka Capital-Journal. She has written for several national blogs and was recently recognized as one of the 2011 winners in the Annual Kansas Factual Story Contest. Karen has lived in Kansas for 15 years and married a native Wichitan. Together they are raising three little sunflower boys and a dog named George.