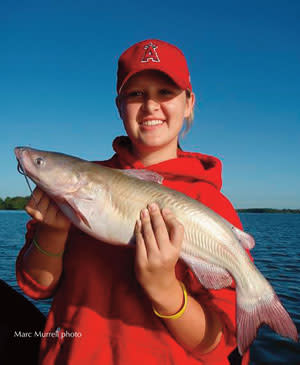 I started fishing in Kansas on a private farm pond in the Red Hills grasslands. Most Kansas anglers fish on private farm ponds, at least some of the time. There are more than 100,000 ponds tucked away in our landscape, providing fantastic fishing opportunities. [[endteaser]]
But Kansas has much more to offer anglers. Unlike other states, where fishing may be similar from one end to the other, Kansas fishing is as different as the landscape is from one region to the next. Perhaps the variety of angling opportunities stems from the amazing differences in the Kansas landscape from east to west – annual rainfall in the east is as much as 40 inches and in the west can be less than 12. Or perhaps the variety is because our lakes are man-made and were built for different purposes, such as flood control, water supply or irrigation. Kansas boasts 24 federal reservoirs, more than 50 state fishing lakes, more than 200 community lakes, the aforementioned farm ponds, and 10,000 miles of fishable streams.
Most of the stream miles and farm ponds are privately owned, so anglers need to get permission before fishing on these waters. However, Kansas Department of Wildlife, Parks & Tourism (KDWPT) has a program that leases private waters and opens them to public fishing. The program is called Fish Impoundment and Stream Habitats (F.I.S.H.). The F.I.S.H. program leases 200 ponds totaling 1,200 acres of water and 98 miles of streams from private landowners. All an angler needs is a fishing license, unless exempt. KDWPT publishes a 
Fishing Atlas
 each spring, which includes maps that detail locations of all F.I.S.H. sites, as well as all state and federally owned lakes and rivers.
Most of Kansas' reservoirs were built in the 1960s and 1970s. ranging in size from 1,200 acres up to 16,000, reservoirs provide good fishing opportunities for open-water species such as white bass, walleye, striped bass, channel catfish, flathead catfish, and crappie. Reservoirs in northcentral and northeastern Kansas are known throughout the Midwest for their crappie fishing. Reservoirs in northcentral Kansas are know for great walleye fishing, and reservoirs in central Kansas are known for crappie and catfish. In fact, the world record flathead catfish, a 123-pounder, was caught from Elk City Reservoir in 1998. In far southeastern Kansas, the country is Ozarkian, and there are several clear-water lakes with standing timber and great bass fishing.
Catfish are probably the "bread-and-butter" fish in Kansas. Nearly every creek, stream, river, pond, lake and reservoir has good populations of channel catfish. And to maintain populations in smaller state and community lakes, KDWPT hatcheries raise millions of channel cats each year. Monster flathead catfish prowl the rivers and reservoirs, and catches of flathead weighing more than 50 pounds are common each summer. Rivers such as the Republican, Kansas, Blue, Smoky Hill, Neosho, Verdigris, and Arkansas are famous for big flatheads. Blue catfish have been stocked in several reservoirs, and they are just beginning to provide trophy-class angling opportunities.
Many Kansas anglers prefer to fish in smaller lakes and ponds, and the community-owned lakes and state fishing lakes fit the bill. These lakes, which range in size form 20 to 300 acres, provide great family adventures with good panfish, bass, and catfish angling opportunities. Through the Community Fishery Assistance Program (CFAP), KDWPT has leased the fishing right to more than 200 of these lakes, so anglers are not charged any additional fees.
Kansas' private farm ponds are jewels tucked away in out-of-the-way pastures and creek bottoms and provide quiet, unspoiled angling experiences in wild settings. And most landowners, while they may limit the number of anglers they allow, are generous with access.
KDWPT stocks select waters across the state with rainbow and brown trout. Anglers 16 and older need a trout stamp during the trout season, which opens October 15 and ends April 15. Most trout won't survive a Kansas summer because of high water temperatures, but there is a place in Cherokee County, on the Mined Land Wildlife Area, where you can fish for trout year-round.
To learn more about where to fish, go to 
http://kdwpt.state.ks.us/Fishing
.  You'll find maps, weekly reports, atlases, and annual forecasts to help your fishing dreams come true.

Mike Miller grew up in Greensburg, hunting and fishing in the fields, grasslands and farm ponds of Kiowa County. He's worked for the Kansas Department of Wildlife and Parks in Pratt for 28 years, and currently heads the Information Production Section, editing and producing Kansas Wildlife & Parks magazine, as well as a variety of other publications. He spends his spare time hunting birds and fishing for whatever is biting.